This game was released on July 26, 2019 and is no longer available to pre-order. Any incentives that were offered are listed below.
Wolfenstein: Youngblood is a co-op shooter developed by MachineGames in conjunction with Arkane Studios, and published by Bethesda. It can be played solo or by two players each taking control of one of the protagonists.
Timeline-wise, the game is set between Wolfenstein II: The New Colossus and the future third and final installment of the trilogy, taking place nineteen years after the events of the former. It serves as a side-story featuring the Blazkowicz sisters, who set out to Nazi-controlled Paris in search of their missing-in-action father.
Pre-order Bonuses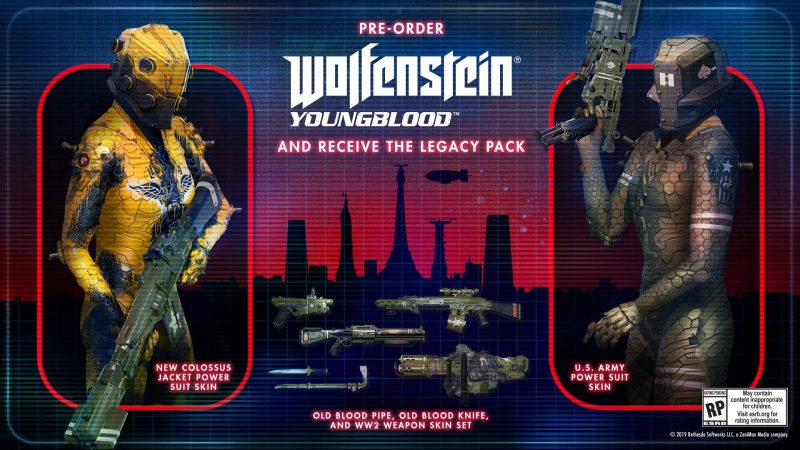 Reserving a copy of Wolfenstein: Youngblood for any platform nets you the Legacy Pack, which includes weapons and outfits used by BJ Blazkowicz:
New Colossus Jacket power suit skin
BJ's U.S. Army power suit skin
Old Blood Pipe
Old Blood Knife
WW2 Weapon Skin Set for all ranged weapons
PSN pre-order additionally get the official Wolfenstein: Youngblood static theme.
The base edition of the game is priced at a modest $29.99, but there is also a Deluxe Edition to be had for $10 more.
Deluxe Edition ($39.99)
The Deluxe Edition of Wolfenstein: Youngblood comes with a Buddy Pass allowing one to play a game with a friend who does not own the game themselves, as well as the the Cyborg Skin Pack containing these extras:
Cyborg player skin
Titanium alloy skins for all weapons
Titanium alloy hatchet
Titanium alloy knife
Armor-boosting pep signal
Wolfenstein: Youngblood will be out for Xbox One, PlayStation 4, Nintendo Switch, and PC via Steam on July 26, 2019.
Check out our other upcoming action games and upcoming nintendo switch games.