This game was released on October 25, 2016 and is no longer available to pre-order. Any incentives that were offered are listed below.
World of Final Fantasy is a role-playing game developed and published by Square Enix for PlayStation 4 and Vita, with cross-save enabled between the two systems. It follows twin siblings Lann and Reyne who journey through the world of Grymoire on a quest to recover their lost memories.
The game is said to be more accessible to younger players, and features stylized "chibi" characters and monsters. The battles use the ATB system that Final Fantasy players will be familiar with, but there's also an added strategic element of stacking monsters on top of each other to create powerful monster towers.
Pre-order bonuses

Pre-order World of Final Fantasy on either platform for an upgrade to the Day One Edition which includes Sephiroth summon, White Chocobo, Glow Moogle, Red Bonnetberry, and Japanese voiceover DLC.
Select retailers are also offering a PS4-only Limited Edition, which comes with all the aforementioned digital items, plus a 24-page artbook showing off the game's creative direction, and special packaging. At the time of writing, this edition was only listed on Square Enix store, GameStop, Best Buy, and Amazon, but it's not out of the question that other retailers are going to carry it as well.
Collector's Edition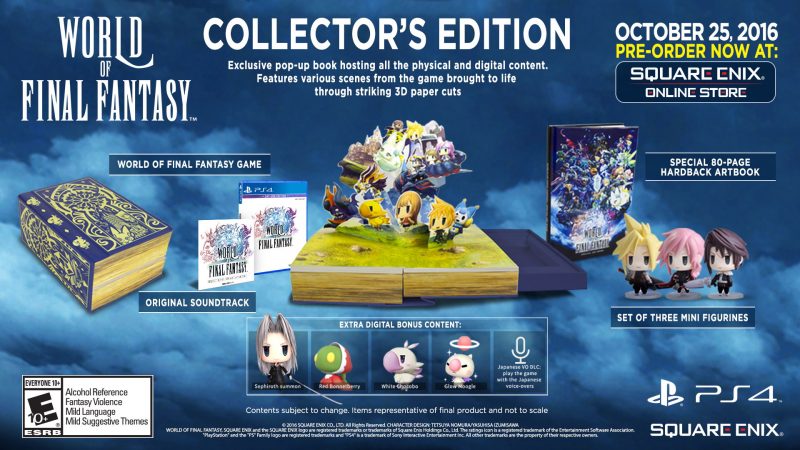 World of Final Fantasy is also available in a $120 Collector's Edition, exclusive to PS4. The following content is included in addition to the game itself:
Exclusive pop-up book with 3D paper cut-outs of various scenes from the game
80-page hardback artbook
Original soundtrack featuring enchanting music from the game
Three mini figurines including Cloud, Lightning and Squall (49.4mm, 39.7mm, and 48mm tall)
The Collector's Edition is only available through the Square Enix store. Pre-ordering this edition also enters you into sweepstakes to win a PS4.
World of Final Fantasy is coming out on October 25 this year.
Check out our other upcoming rpg games and upcoming playstation 4 games.