This game was released on April 17, 2018 and is no longer available to pre-order. Any incentives that were offered are listed below.
The Yakuza franchise of action-adventure games renowned for realistic urban environments, over-the-top brawling, and silly shenanigans is getting another installment. Titled Yakuza 6: The Song of Life, the upcoming game deals with the final chapter of protagonist Kazuma Kiryu's story. Returning from a three-year stint in prison, Kazuma finds his surrogate daughter Haruka missing from the orphanage, and sets out to investigate.
Publisher Sega promises visual improvements thanks to Yakuza 6 being built from the ground up on a new Dragon Engine. For the first time in the series, the game will be fully voiced in Japanese. The players will get to explore the modernized streets of Kamurocho, the largest red-light district in Tokyo, as well as the scenic coastal town of Onomichi.
Pre-order Bonuses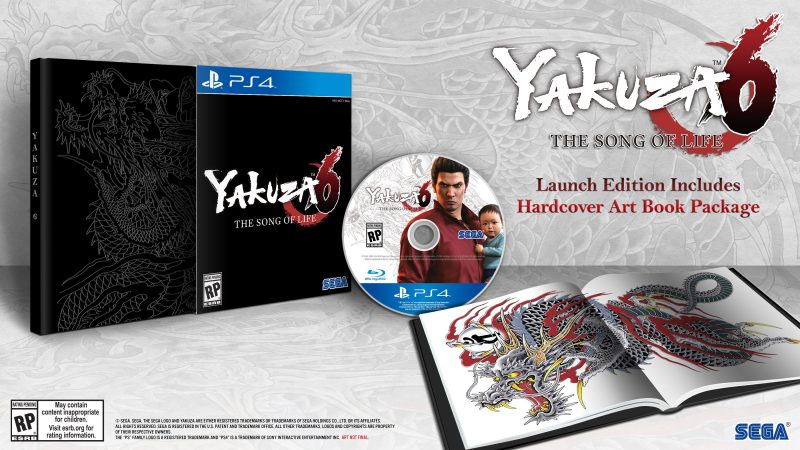 Pre-order Yakuza 6: The Song of Life at participating retailers to secure the Essence of Art Edition with a sleek hardcover art book which doubles up as a disc holder.
GameStop also has an additional bonus: exclusive access code to the Yakuza Kamurocho District 360 site, which is described as follows:
Explore Kamurocho like never before and find hidden Clan Creator codes that can be redeemed in-game by playing Yakuza 6: The Song of Life Discover more information about the Yakuza world with animated comics and through a dynamic timeline.
"After Hours" Premium Edition
The aptly-titled After Hours Premium Edition retails for $90 and includes bar paraphernalia and more:
Hardcover art book: the intense human drama and magnetic world of Yakuza 6 will be on display in this stunning art book.
Two bar glasses (280ml): designed with Kiryu's ferocious dragon tattoo, these bar glasses are the perfect receptacles for your beverage of choice.
Two ice stones: cool down your drinks with a pair of heat action branded ice stones. One features the flame heat action icon, while the other has the Japanese "kiwami" heat action icon.
Two coasters: a true yakuza knows how to relax with class, so coasters are a must have when lounging after hours. Protect table surfaces with style by placing your glasses on top of official Tojo Clan branded coasters.
An outer box: all of these essential tools will be housed within a collectable outer box.
Yakuza 6: The Song of Life is scheduled to be released on April 17, 2018, exclusively for PlayStation 4 consoles.
Check out our other upcoming action games and upcoming playstation 4 games.