This game was released on April 11, 2017 and is no longer available to pre-order. Any incentives that were offered are listed below.
Yooka-Laylee is a 3D platformer developed by Playtonic Games and published by Team17. Successfully funded via Kickstarter, the game's development team includes key personnel who worked on Banjo-Kazooie, which the upcoming Yooka-Laylee is a spiritual successor to.
The game follows the eponymous Yooka and Laylee, a buddy duo who embark on an adventure to thwart corporate creep Capital B's plan to absorb all the world's books and turn them into pure profit. The two characters have unlockable abilities, and gameplay can be further customized by equipping Play Tonics to enhance their stats or provide entertaining visual effects. Yooka-Laylee also offers a local co-op for two players, as well as online multiplayer with eight different minigames.
Pre-order bonus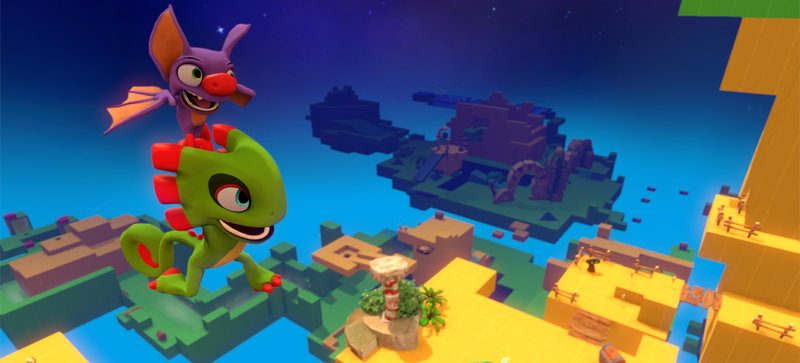 Pre-ordering Yooka-Laylee grants instant access to the Toybox, a sandbox demo which offers a taste of the game's mechanics, but is completely spoiler-free.
Digital Deluxe (PC)
On Steam and GOG, a Digital Deluxe edition of the game is available, which bumps the price up to $49.99 and adds the following:
Digital manual & artbook: contains never-before-seen concept art and in-development images offering an insight into the creation of the game.
Digital soundtrack: combines three of gaming's greatest composers, the legendary David Wise (Donkey Kong Country, Diddy Kong Racing), esteemed Banjo-Kazooie composer Grant Kirkhope (Viva Piñata, GoldenEye 007) and the award-winning Steve Burke (Kameo: Elements of Power).
E3 2016 trailer
Yooka-Laylee is scheduled to launch on April 11, 2017 worldwide. The game will be available on PlayStation 4, Xbox One, and Nintendo Switch consoles, as well as Windows, Linux, and OS X.
Check out our other upcoming platformer games and upcoming nintendo switch games.