This game was released on February 04, 2020 and is no longer available to pre-order. Any incentives that were offered are listed below.
Zombie Army 4: Dead War is a third-person shooter from Rebellion Developments. It is a sequel to Zombie Army Trilogy, which itself is a spin-off of the company's Sniper Elite franchise. Set in 1940s Europe, the upcoming game again pits one to four players against hordes of Nazi undead.
The game's most touted features include deep character progression, weapon customization, brutal melee, and even more brutal dismemberment with the return of fan-favorite X-ray kill cam. In addition to a single-player campaign that picks up where Zombie Army Trilogy left off, there's the improved Horde Mode with maps that grow larger the longer you survive.
Pre-order Bonuses
Pre-order Zombie Army 4: Dead War for any platform to receive the Undead Airman – a British zombie with a very stiff upper lip – as a playable character: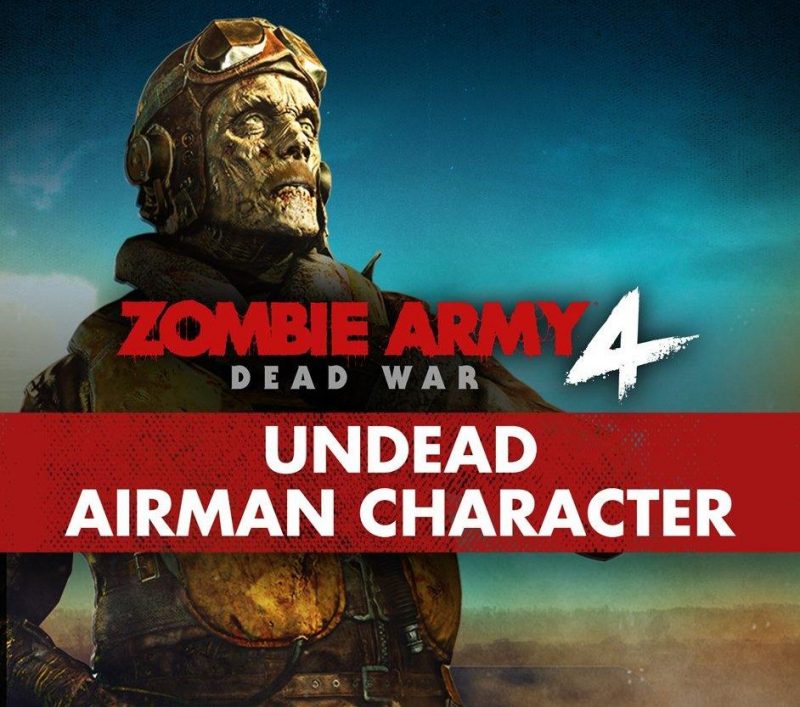 As an additional bonus, Best Buy is offering an exclusive Steelbook case pictured below.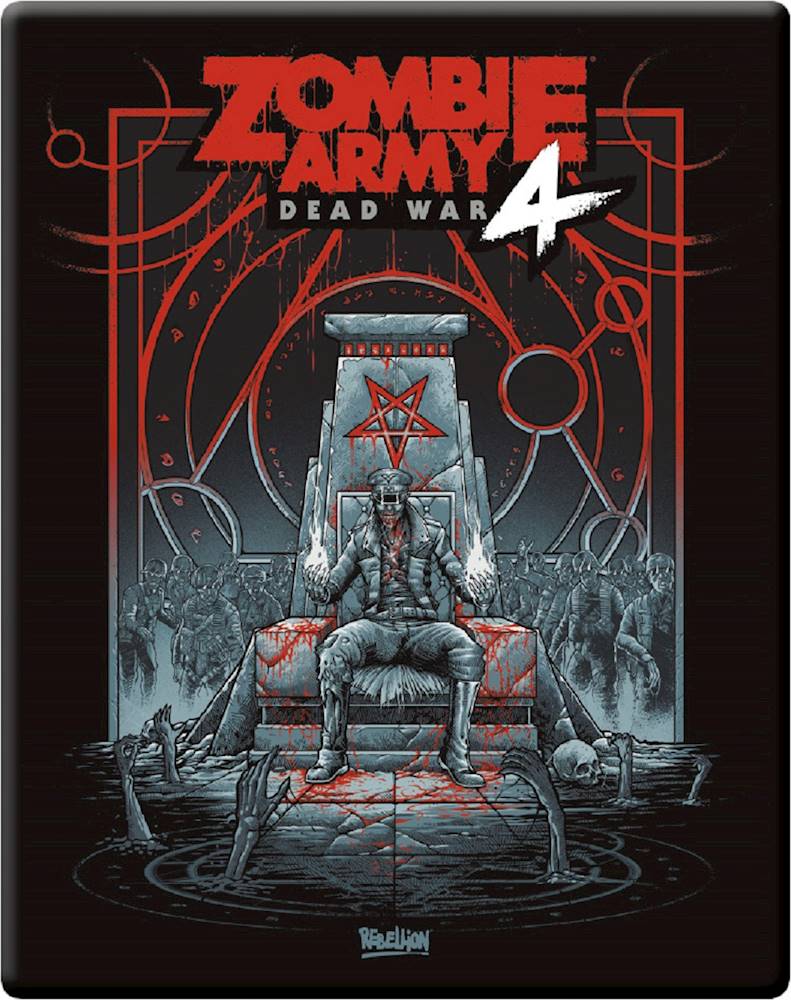 The standard edition of the game is priced at $49.99, and the three special editions are detailed below.
Deluxe Edition ($59.99)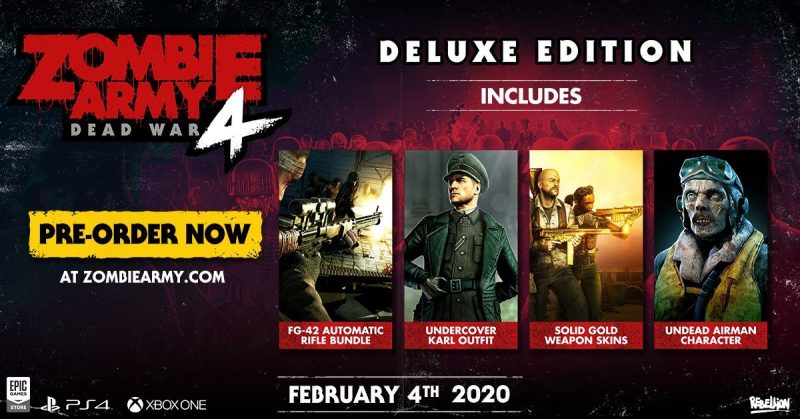 For $10 more over the standard edition, the digital Deluxe Edition nets you the following content:
Playable character: Undead Airman (pre-order bonus)
Weapon Skins: Solid Gold
Weapon Bundle: FG-42 Semi-auto Rifle (1 Weapon, 2 Charms, 2 Bespoke Weapon Skins)
Character Outfit: Undercover Karl (1 Costume, 2 Hats)
Super Deluxe Edition ($79.99)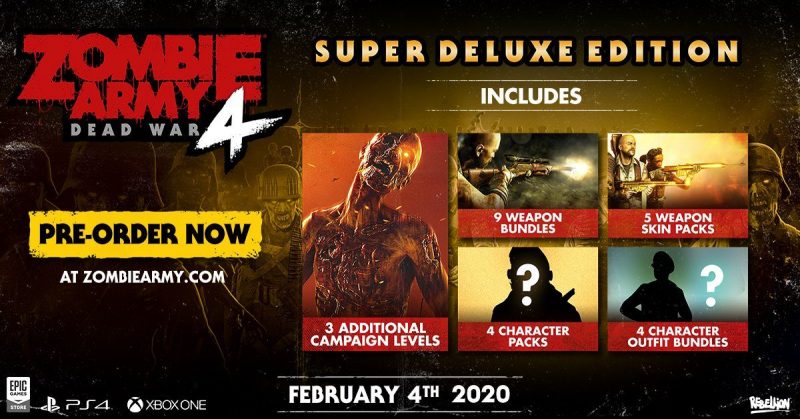 One step above that is the Super Deluxe Edition that includes all the in-game content listed so far and more:
3 Additional Levels: blood-curdling new campaign missions for 1-4 players
4 Character Packs: new playable characters to be used in any mode
9 Weapon Bundles: including new weapons, charms, skins and more
5 Weapon Skin Packs: customize weapons with effects ranging from wrapping paper to hot lava
4 Character Outfit Bundles: dress up characters with new outfits and hats
Collector's Edition ($99.99)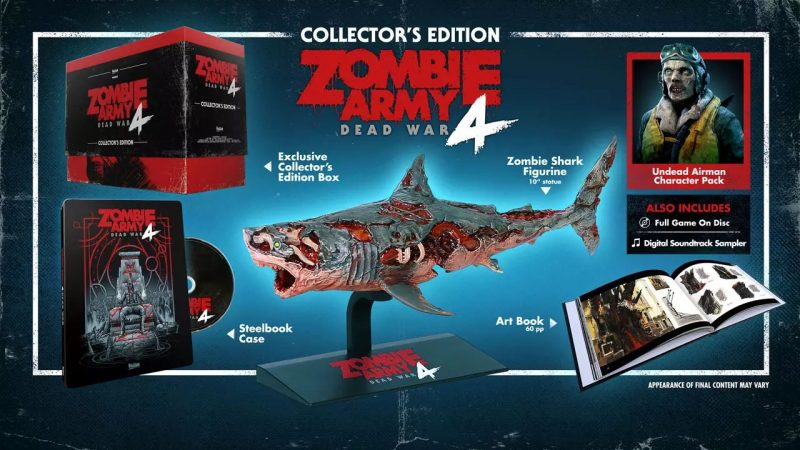 Lastly, the boxed Collector's Edition comes with these physical items on top of the game itself:
Exclusive Collector's Edition Box
Steelbook Case
10″ Zombie Shark Figurine
60-Page Art Book
Digital Soundtrack Sampler
Undead Airman Pack (same as pre-order bonus)
Zombie Army 4: Dead War is scheduled to launch on February 4, 2020 for Xbox One, PlayStation 4, and PC via Epic Games store, where it will remain an exclusive for the duration of one year.
Check out our other upcoming shooter games and upcoming pc games.