This game was released on May 14, 2019 and is no longer available to pre-order. Any incentives that were offered are listed below.
A Plague Tale: Innocence is a fantasy-historical action-adventure game from Asobo Studio. Set in Dark-Ages France, it follows two siblings on the run from the Inquisition during the times of the plague.
Amicia, the elder, is a headstrong girl trained in the art of hunting by her father. Her little brother, Hugo, is afflicted by a mysterious illness and takes up all of his mother's attention.
Despite having little contact during childhood, they will come to trust each other as they journey through plague-ravaged villages evading Inquisition soldiers and swarms of rats, joining forces with other children, and finding purpose in the brutal, unforgiving world.
Pre-order Bonuses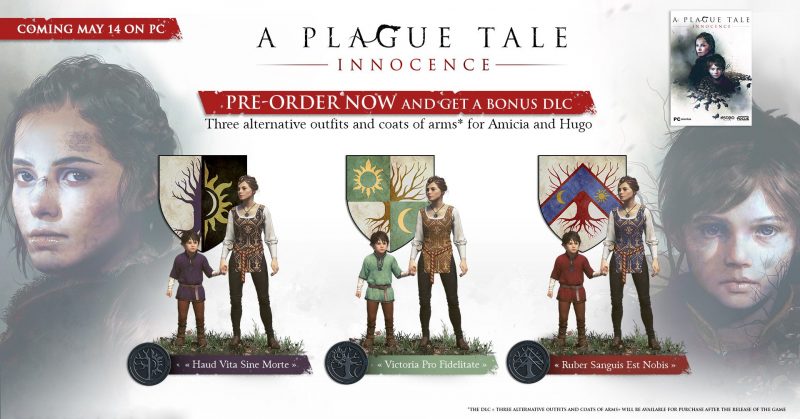 Pre-order A Plague Tale: Innocence for any platform, and you'll receive three alternative outfits and coats of arms for game's protagonists Amicia and Hugo:
Haud Vita Sine Morte
Victoria Pro Fidelitate
Ruber Sanguis Est Nobis
These will also be available to purchase after the release the game in the form of DLC.
Retailers in some regions are offering a limited vinyl "sound selection" as a pre-order bonus; unfortunately, it does not appear to be available anywhere in North America.
A Plague Tale: Innocence will be out for Xbox One, PlayStation 4, and PC via Steam on May 14, 2019.
Check out our other upcoming action games and upcoming pc games.