This game was released on October 11, 2011 and is no longer available to pre-order. Any incentives that were offered are listed below.
Assault Horizon is an upcoming title in the popular Ace Combat flight arcade / simulator series from Namco Bandai Games. It takes place in year 2015, putting the player into the shoes of a 108th Task Force veteran pilot, William Bishop. The said military unit is a part of NATO forces and is on a mission to stop a dangerous insurgent group in Africa.
The game features an improved physics engine, which allows for more realistic destruction of aircraft and buildings. It offers two control schemes: "Original", which is similar to "Expert" in previous Ace Combat titles, and "Optimum", the default mode designed to use with the new Close Range Assault system. In addition to these changes, Ace Combat: Assault Horizon will also let you pilot helicopters and bombers for the first time.
United States pre-order bonuses
Gamestop: exclusive F-4 Phantom II fighter jet.

The McDonnell Douglas F-4E, referred to as the Phantom II, is a tandem two-seat, twin-engined, all-weather, long-range supersonic jet interceptor fighter/fighter-bomber originally developed for the US Navy.

Amazon: $10 store credit.
European pre-order bonuses
Pre-order Ace Combat: Assault Horizon at participating European retailers to receive the Limited Edition which includes a folded box, game soundtrack, a notebook signed by the dev team, and an F-4 Phantom II aircraft: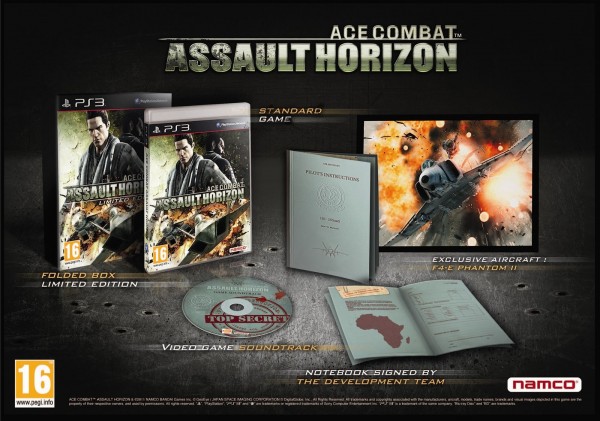 The Limited Edition is available at most UK retailers like Amazon, Play, HMV, and so on. The price is the same as for a standard edition of a console game.
In addition, some retailers are offering the Skilled Pack DLC which includes the following benefits for Ace Combat: Assault Horizon multiplayer:
Advanced Dog Fight+: players can get into the Dogfight Mode easier (but initiating the Airstrike Mode becomes more difficult).
Advanced Air Strike+: player can get into the Airstrike Mode easier (on the other hand, initiating DFM becomes harder).
Machine Gun Cool Down+: drastically lowers the likelihood of Machine Gun overheating, but reduces its firepower.
You can acquire the Skilled Pack by preordering AC: Assault Horizon at GAME.
"The Shark" trailer
This Assault Horizon trailer is centered around Andrei "Akula" Markov, a feared Russian pilot and one of the main antagonists in the game.
Ace Combat: Assault Horizon will be released on October 11 in the United States, October 13 in Japan, and October 14 in Europe.
Check out our other upcoming action games and upcoming playstation 3 games.