Amazon is having a big gaming sale right now, with up to 75% discounts for popular core and casual video games. Publishers participating include names like 1C, 2K Games, Atari, Capcom, Meridian4, DreamCatcher, Sigma-Team and others. The games are delivered via Amazon's own digital download system, which is both convenient and fast. Click the image below to check out some of their Year-End game download deals: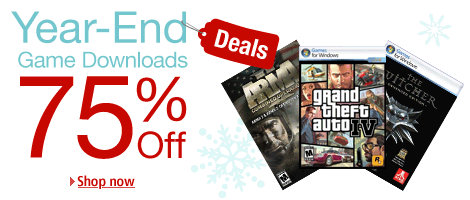 Here are some of the best video game deals on Amazon right now – don't forget to switch the Platform to PC Download to see the discount:
The Witcher – Enhanced Edition: $5.00 (If you missed the recent sale of this great RPG on Steam like I did, this is your chance to get it for the same price)
Grand Theft Auto IV: $5.00
Bioshock 2: $5.00
Alpha Prime: $1.25 (Fun shooter back from 2007)
Cryostasis: Sleep of Reason: $3.25 (Pretty good shooter / horror game made in 2008)
Trainz Simulator 2010: Engineers Edition: $10 (High quality railroad building game)
Mafia II: $12.50
That's not all: you can also buy one of these titles (which include great games like Bioware's Mass Effect 1 & 2) and get a 40% discount for a second game of your choice, providing it costs the same or less than the first one. Your discount will appear on the checkout page. And if you prefer casual games or want to get one for your kids or other people who aren't gamers, Amazon has a bunch of great $1.99 deals listed as well.