This game was released on October 31, 2012 and is no longer available to pre-order. Any incentives that were offered are listed below.
Assassin's Creed III is the next installment in the popular action game franchise. It is said to conclude the story of Desmond Miles, who once again enters the Animus to experience the life of his ancestor. This time he's sent back to live as Connor Kenway, a half-English, half-Mohawk assassin who fought in the the American Revolutionary War. Connor uses a variety of weapons like a tomahawk, knife, fintlock pistols, and, of course, the signature Hidden Blade.
The game runs on a new graphics engine, resulting in better visuals and allowing Ubisoft to incorporate seasonal weather changes into the game. The combat and stealth systems are remade, and include a lot of new features unseen in previous AC titles. Assassin's Creed 3 also has a multiplayer aspect.
Pre-order bonuses
Preordering Assassin's Creed 3 at any of the following retailers will net you a free SteelBook case featuring art by Alex Ross. However, this bonus is only available while supplies last, so make sure to double-check the website or ask in store before placing your preorder. Some retailers are also offering exclusive pre-order incentives:
GameStop: Lost Mayan Ruins mission and Sawtooth Sword weapon. You also save $10 on the exclusive Ezio Auditore Gauntlet Replica.
Amazon: Captain of the Aquila single-player character and Boarding Axe weapon.
Walmart: A Dangerous Secret mission and Flintlock Musket weapon.
Best Buy: Ghost of War mission and Pontiac's War Club weapon.
Best Buy is also giving away $20 in Reward Certificates, but you have to be a Gamers Club Unlocked member to get this bonus.
Limited edition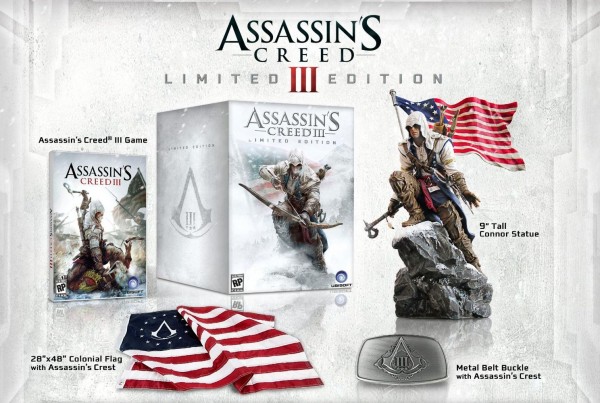 Assassin's Creed III Limited Edition is available at American retailers for $119.99. The following collectibles are included in this rather expensive bundle:
9″ tall Connor statue
Metal belt buckle with the Assassin's crest
28″ x 48″ embroidered colonial flag
Digital Deluxe edition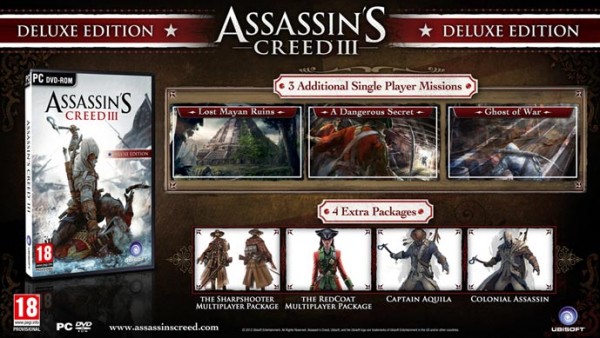 Ubisoft hasn't forgotten about PC gamers either – they can pre-order the Digital Deluxe edition of AC3 at digital retailers for $64.99. Lots of bonus in-game content is included in this one:
3 single-player missions
Sharpshooter and Redcoat multiplayer characters
Captain Aquila and Colonial Assassin outfits
George Washington's notebook
Best of Assassin's Creed sountrack
UbiWorkshop edition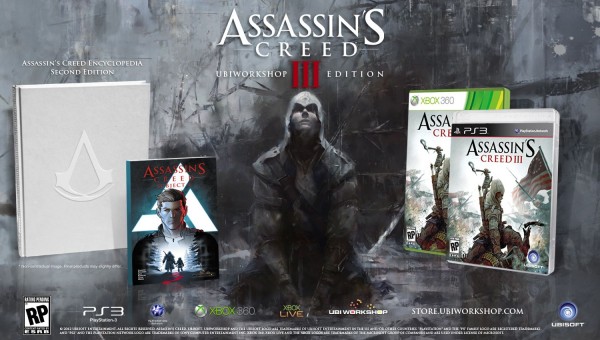 If statues aren't your thing, you might be more interested in the AC3 UbiWorkshop Edition which includes two big bonuses:
Assassin's Creed: Subject 4 graphic novel
Assassin's Creed Encyclopedia, Second Edition
This edition is available exclusively at UbiWorkshop store for $109.99 (free worldwide shipping is included).
To recap, AC3 editions available in North America are the Limited Edition, the Digital Deluxe Edition, and the UbiWorkshop Edition. Europe is also getting several collector's editions, namely the Special Edition, the Join or Die Edition, and the Freedom Edition.
Assassin's Creed 3 is set to release on October 30st, 2012 for the consoles. AC3 will also be released for PC and Mac at a later date.
Check out our other upcoming action games and upcoming pc games.