This game was released on February 21, 2023 and is no longer available to pre-order. Any incentives that were offered are listed below.
The discovery of a world-changing substance known as the polymer propels the Soviet Union into a technological renaissance in Atomic Heart. This action-packed shooter follows the events that take place in an alternate version of Soviet Russia where developments in science and technology prevailed. Developed by Mundfish and published by Focus Entertainment, Atomic Heart will be available on PlayStation 5, PlayStation 4, Xbox One, Xbox Series X and Series S, and Microsoft Windows this Winter.
As Soviet Russia enjoys the current great economic prosperity and is on pace to unveil, in a grand event, a technology that will bridge the gap between man and machine, a tragedy in Facility №3826 derails the proceedings, forcing you, Major Sergey Nechaev – also known as P-3- to investigate.
The damage done is catastrophic, the technology meant to control robots through a neural link malfunctions turning all the robots in the facility against the humans. This leads to a bloodbath with all the scientists in the facility being brutally massacred.
You being an augmented soldier with military-grade implants makes you the perfect choice for the job. Dive deep into the facility and uncover the reasoning behind the strange malfunction, all while fending off incredibly fierce robots and mutations with your capable arsenal of weapons.
In an experience that will get your heart racing and blood pumping, fight your way through unrelenting hordes of enemies each with distinct attack patterns that vary with each playthrough.
Pre-order Bonuses
If you make a purchase through these links, we may get a share of the sale.
Atomic Heart Standard Edition ($69.99)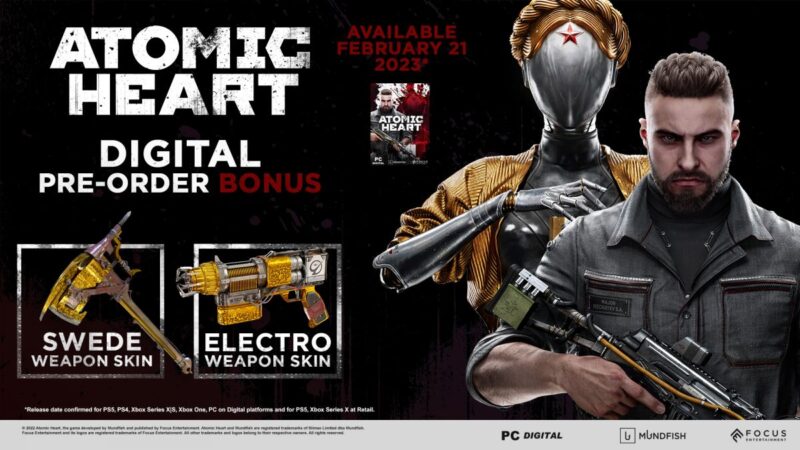 The Standard Edition of Atomic Heart comes bundled with a preorder bonus that comes with cool unique skins for your weapons, included in the preorder bonus is the Labor and Science Skin Pack that features:
Swede Weapon Skin
Electro Weapon Skin
Atomic Heart Gold Edition ($99.99)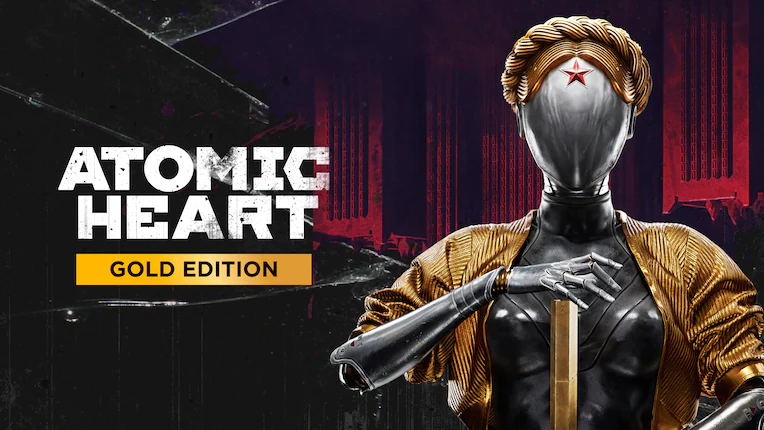 The Gold Edition of Atomic Heart is the second tier edition of the game which comes with some additional content on-top of the preorder bonus, included in the Gold Edition is:
Digital Game Copy
Preorder Bonus
The Atomic Pass, which includes: Free DLC and an exclusive Polymer Glove Skin
Atomic Heart Premium Edition ($109.99)
The Atomic Heart Premium Edition is the highest tier digital release of the game and comes packed with the most digital content for fans to enjoy. Included in this edition is:
Digital game copy
Atomic Pass

DLC
Exclusive Polymer Glove Skin

Exclusive Zvezdochka Weapon Skin
Exclusive AK Weapon Skin
Digital artbook with additional info about the game
Atomic Heart Limited Edition Bundle ($99.99)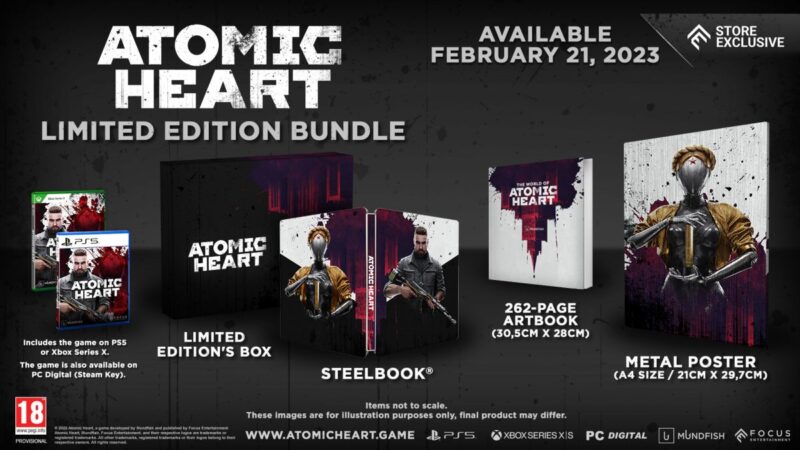 The Limited Edition Bundle of the game comes with more physical game merchandise as opposed to digital game content, with the items included being:
The game's official Steelbook
A metal poster representing Left – one of the iconic robot twins of Atomic Heart – and coming with a magnetic mount to best display it.
A 262-page artbook in English: the story of the game's creation illustrated by the art team at Mundfish.
The game on the platform of your choice. PlayStation 5 and Xbox Series X versions will be delivered as physical copies. The PC version will be sent digitally as a download code for Steam.
The Labour & Science weapon skin pack DLC
PlayStation
Xbox
Windows PC
Atomic Heart will be released on February 21st, 2023, and will be playable on PlayStation 5, PlayStation 4, Xbox One, Xbox Series X/S, and Microsoft Windows
Check out our other upcoming action games and upcoming pc games.