This game was released on October 25, 2013 and is no longer available to pre-order. Any incentives that were offered are listed below.
Batman: Arkham Origins is an action / stealth title set as a prequel to Batman: Arkham Asylum. Unlike the first two games in the series, it is developed by WB Montreal instead of Rocksteady Studios.
Batman: Arkham Origins takes place in Gotham City during the winter, with the caped crusader having to fight off multiple assassins sent by the crime lord Black Mask and figuring out his intentions. In addition to the main storyline, Batman can also perform dynamic side missions for XP and other rewards.
The game does offer some new features, perhaps the most notable of which is the improved Detective Mode which allows Batman to reconstruct and replay crime scenes, helping him discover new evidence. There's also a new gadget called the Remote Claw, which can tether two objects together.
Pre-order bonuses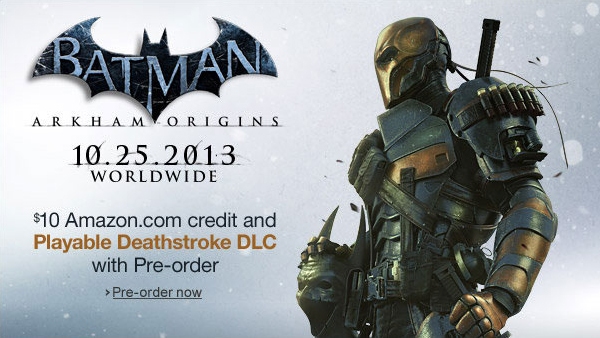 Pre-order Arkham Origins at Amazon (+$10 credit), GameStop (+2 exclusive Black Mask challenge maps), or Best Buy (+Tim Drake skin) to receive a bonus DLC which allows you to play as Deathstroke with the two skins and two challenge maps included.
Official trailer
Speaking of Deathstroke, that's exactly who Batman is fighting in the newest trailer:
Batman: Arkham Origins is scheduled to be released on October 25th, 2013 worldwide.
Check out our other upcoming action games and upcoming pc games.