This game was released on November 19, 2021 and is no longer available to pre-order. Any incentives that were offered are listed below.
Fight for the future in Battlefield 2042. Get tossed into a world where chaos and war rule the day in this intense first-person shooter. Play as the No-Pats, a band of displaced refugees that don't fight for a flag but for their future. Developed by DICE and published by Electronic Arts, Battlefield 2042 will be playable on PlayStation 4, PlayStation 5, Xbox One, Xbox Series X|S, and Microsoft Windows this Autumn.
USA and Russia- the last superpowers-are on the brink of war and with tensions rising each day, it's only a matter of time. The game is multiplayer-focused and contains 3 modes: All-Out Warfare, Conquest, and Breakthrough.
All-Out warfare is a massive playground where up to 128 players can take part in chaotic battles through large open-world maps. Get to experience dynamic weather, natural calamities, and tornados throughout battles.
Play as 1 of 10 Specialists each with a unique trait and a fully customizable loadout. As a Specialist use your arsenal of weapons and gadgets to get through thrilling firefights and stand-offs.
Pre-order Bonuses
If you make a purchase through these links, we may get a share of the sale.
Standard Edition ($69.99)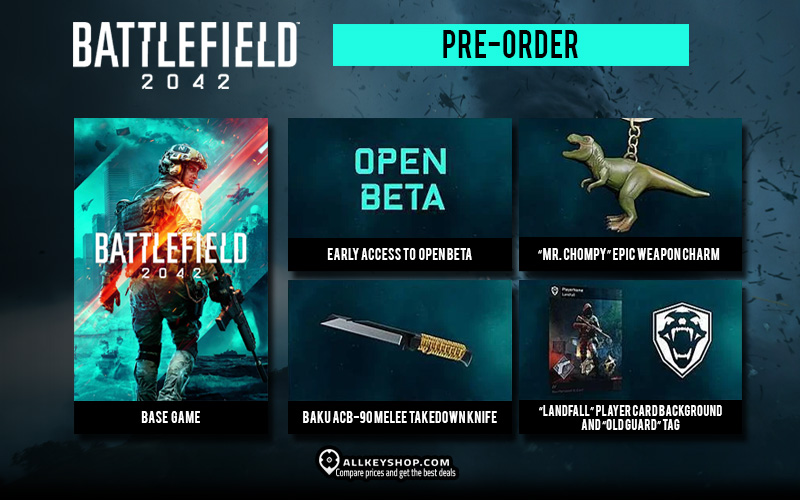 Pre-ordering Battlefield 2042 bags you the base game, early access to the open beta, plus exclusive digital content including:
Baku ACB-90 Epic Melee Takedown Knife
"Mr. Chompy" Epic Weapon Charm
"Landfall" Player Card Background and "Old Guard" Tag
Gold Edition ($99.99)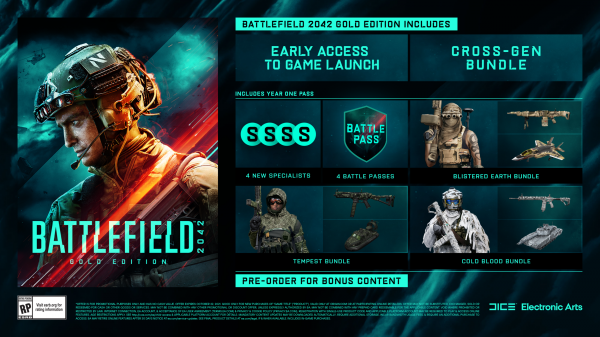 For the Battlefield 2042 Gold Edition, you get access to a bunch of exclusive in-game content and game passes such as:
Open Beta Early Access
7 Days Early Access
Year 1 Pass: 4 New Specialists, 4 Battle Passes, 3 Epic Skin Bundles
Pre-order Pack
Cross-Gen Bundle
Ultimate Edition ($119.99)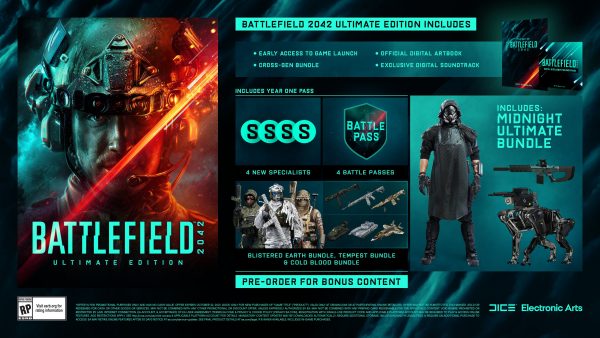 The Ultimate Edition of Battlefield 2042 comes with all the previously mentioned bonuses and extras as well as the following:
Midnight Ultimate Bundle
Official Digital Artbook
Exclusive Digital Soundtrack
PlayStation
Xbox
PC
Battlefield 2042 will be released on November 19th, 2021, and will be playable on PlayStation 4, PlayStation 5, Xbox One, Xbox Series X|S, and Windows PC.
Check out our other upcoming action games and upcoming pc games.