This game was released on February 21, 2017 and is no longer available to pre-order. Any incentives that were offered are listed below.
Adapted from the popular manga series Berserk, this M-rated hack-and-slash game follows lone mercenary Guts in his quest to take down every last one of the demonic Apostles. Armed with a vast array of different weapons, players can utilize them to their full potential against hordes of enemies in Dynasty Warriors style, one-vs-many battles. Berserk and the Band of the Hawk includes as many as eight playable characters (such as Griffith, Casca, and Schierke), each with their own different fighting styles.
The game is developed by Omega Force and published by Koei Tecmo for PlayStation 4, PS Vita, and Windows in the West. The Japanese version, titled Berserk Musou, also received a PS3 release. It follows "Golden Age" through "Hawk of the Millennium Empire" arcs of the Berserk manga.
Pre-order bonuses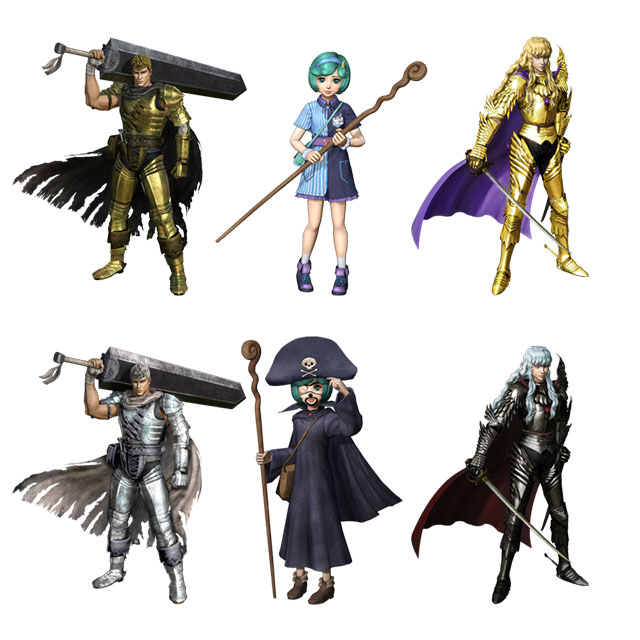 Pre-ordering Berserk and the Band of the Hawk through either Amazon, Best Buy, EB Games, or GameStop in the States gets you six stylish costumes, according to Koei Tecmo America. These include the White Swordsman and Golden Swordsman costumes for Guts, the Golden Hawk and Black Hawk costumes for Griffith, and the Pirate and Blue Stripe costumes for Schierke.
Guts gameplay trailer
Berserk and the Band of the Hawk is scheduled to launch on February 21, 2017 in North America, and three days later in the EU.
Check out our other upcoming action games and upcoming pc games.