This game was released on November 04, 2016 and is no longer available to pre-order. Any incentives that were offered are listed below.
Infinite Warfare is the thirteenth main installment in the first-person shooter series Call of Duty. It is developed by Infinity Ward and published by Activision for Xbox One, PlayStation 4, and Windows.
The upcoming game is a lot more futuristic than its predecessors: it takes place in a distant future where humans have colonized the solar system, and centers around a conflict between Earth-based United Nations Space Alliance and the Settlement Defense Front, insurgents who seek to control the off-world outposts. Players will step into the shoes of Captain Reyes and take command of Retribution, a massive warship which serves as base-of-operations while journeying through the solar system.
New gameplay mechanics in Call of Duty: Infinite Warfare include aerial warfare with a space-capable jet-fighter Jackal, and zero-gravity environments which require the use of grappling hooks and thrusters to navigate. In addition to the campaign, which promises "unforgettable characters and rich emotional arcs", Infinite Warfare will offer several competitive multiplayer modes and a co-op Zombie mode with its own story. Despite the obvious sci-fi themes, the developers claim they're going for a "realistic, plausible near-future story" (source).
Pre-order bonuses
Pre-order Call of Duty: Infinite Warfare anywhere to receive the Terminal multiplayer map, multiplayer beta access, and Zombies in Spaceland pack as free bonuses. Additional retailer-exclusive incentives are listed below:
GameStop: Bullethawk Pack with animated calling card and animated reticle.
Walmart: Call of Duty Limited Edition Cup (with physical Xbox One and PS4 editions).
Best Buy: $10 in reward certificates and 20% off for Unlocked members. Exclusive Prestige Icon Pack which includes collectible icon series patch display and limited edition socks.
Microsoft Store: $10 gift code.
Digital marketplaces are also offering 1,000 COD points for use in Call of Duty: Black Ops III. Originally, the promotion was supposed to end on June 13, but it has been extended by Activision. At the time of writing, this bonus was listed PlayStation, Xbox, and Steam. It is unclear whether it will be available all the way until launch.
Infinite Warfare Huge Crate
While this is not a game edition, Amazon is offering an exclusive Call of Duty Infinite Warfare Huge Crate ($49.95) which might be of interest to the fans. It contains officially licensed Infinite Warfare apparel and accessories including messenger bag, beanie, flashlight, lanyard, pin badge, and three cards with key artwork from the game.
Legacy Edition
The Legacy Edition costs $80 and bundles CoD: Infinite Warfare with a remastered version of Modern Warfare. The latter is a standalone game which includes the full campaign as well as ten multiplayer maps from the original Call of Duty 4: Modern Warfare. The remastered game is not available separately.
Digital Deluxe Edition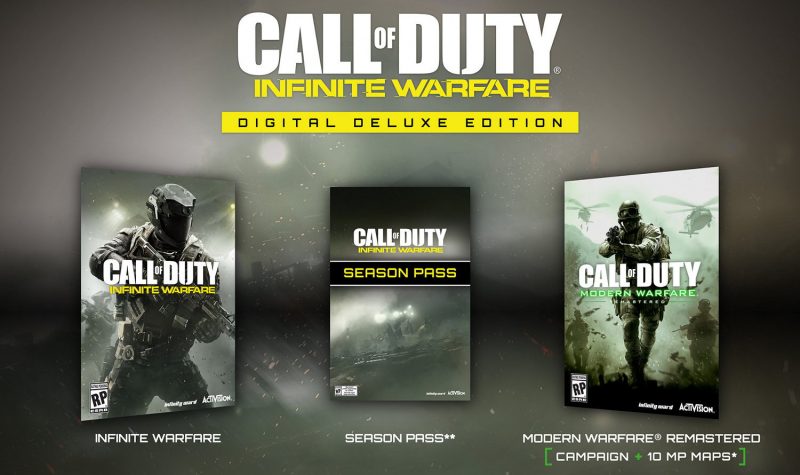 In addition to the game itself, the Digital Deluxe Edition comes with CoD: Modern Warfare Remastered and a Season Pass for Call of Duty: Infinite Warfare, which bumps the price up to $100.
Legacy Pro Edition
Priced at $120, the Legacy Pro Edition is the most expensive version of Call of Duty: Infinite Warfare. It can be considered a physical counterpart to the Digital Deluxe Edition as it also includes the game itself, Call of Duty: Modern Warfare Remastered, and a Season Pass. However, it also adds a collectible Steelbook, the official game soundtrack, and extra digital content. In the States, this version is exclusive to GameStop.
Call of Duty: Infinite Warfare is coming to current-gen consoles and Windows PCs on November 4, 2016. Pre-purchasing any of the premium editions at select retailers allows one to start playing Call of Duty: Modern Warfare Remastered campaign 30 days early.
Check out our other upcoming shooter games and upcoming pc games.