This game was released on September 24, 2019 and is no longer available to pre-order. Any incentives that were offered are listed below.
Contra: Rogue Corps is a top-down run-and-gun game from Konami that picks up after the events of the classic Contra III: The Alien Wars (1992). Players assume the roles of the titular Rogue Corps – Kaiser, Ms. Harakiri, The Gentleman, and Hungry Beast – who are supported by the newcomer Aero Captain. Their mission? Enter the Damned City that arose on the grounds of the final battles, and shoot every alien in sight.
The game can be played solo or in a co-op of up to four. There is also a PvP mode with two different rulesets.
Pre-order Bonuses
Pre-order Contra: Rogue Corps for any platform to receive two in-game t-shirts for the Hungry Beast:
There are additional bonuses to be had too. Digital pre-purchases on PSN come with a PS4 theme, while retail copies include an illustration by Tom duBois inside the case:
The standard edition of the game is priced at $39.99. There is also a Season Pass containing assorted in-game items and character skins, as detailed below.
Season Pass Bundle ($44.99)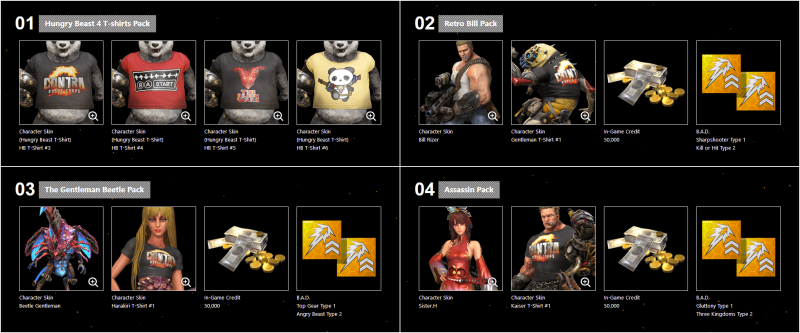 Buying the game together with a Season Pass nets you the following DLC:
Hungry Beast 4 T-shirts Pack:

Rogue Corps logo t-shirt
Konami Code t-shirt
Alien Wars t-shirt
Lily's Hungry Beast t-shirt

Retro Bill Pack:

Bill Rizer retro character skin
Rogue Corps t-shirt for Gentleman
50,000 in-game credit
B.A.D. Sharpshooter Type 1 & Kill or Hit Type 2

The Gentleman Beetle Pack:

Beetle character skin for Gentleman
Rogue Corps logo t-shirt for Ms. Harakiri
B.A.D. Top Gear Type 1 & Angry Beast Type 2

Assassin Pack:

Sister H. character skin for Ms. Harakiri
Rogue Corps logo t-shirt for Kaiser
50,000 in-game credit
B.A.D. Gluttony Type 1 & Three Kingdoms Type 2
Contra: Rogue Corps is scheduled to launch on Xbox One, PlayStation 4, Nintendo Switch, and Windows PCs (via Steam) on September 24, 2019.
Check out our other upcoming shooter games and upcoming nintendo switch games.