This game was released on March 11, 2014 and is no longer available to pre-order. Any incentives that were offered are listed below.
Dark Souls II is an action RPG developed by From Software and published by Namco Bandai Games outside of Japan. It is a successor (but not a direct sequel) to Dark Souls, a title famous for its difficult gameplay. The gameplay mechanics of DSII are said to be quite similar to those of the previous installment, but the game world is twice as large, and the graphics are considerably improved. There also are various changes to classes and the multiplayer system.
Pre-order bonuses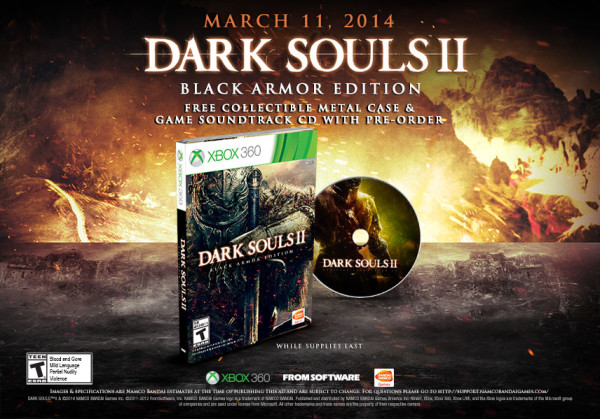 The deal here is quite simple: pre-order Dark Souls II at your favorite retailer or straight from Namco Bandai store and you'll be upgraded to the Black Armor Edition free of charge. Said edition comes with a metal case and a game soundtrack CD. As usual, this is only available for console versions, but at least the PC one is slightly cheaper.
Collector's Edition
Hardcore Dark Souls fans might be interested in the $120 Collector's Edition. It also includes the aforementioned pre-order bonus, plus a cool 12″ Warrior Knight figurine in a display box, a hardcover art book, and a microfiber game map.
Cursed trailer
The release date of Xbox 360 and PS3 versions of Dark Souls II is set for March 11th this year. The game will also be released for Windows PCs some time after the console launch.
Check out our other upcoming action games and upcoming pc games.