This game was released on August 14, 2012 and is no longer available to pre-order. Any incentives that were offered are listed below.
Darksiders II is a multiplatform action-adventure game developed by Vigil Games and published by THQ. This Darksiders sequel takes place during the events of the first game, but puts you in the role of a different Horseman of the Apocalypse – Death. The Horseman sets out to prove the innocence of his brother, War, and believes he can accomplish this by resurrecting the mankind.
The game features a number of improvements over its predecessor. For one, the world of Darksiders II is twice the size of the original. Some RPG elements are introduced, such as skill trees and loot drops. DII still lacks a multiplayer mode, however.
Darksiders 2 preorder bonuses
All Darksiders II preorders are automatically upgraded to the Limited Edition which includes a code for downloading the first single-player DLC pack, Argul's Tomb, for free when it becomes available. In addition, you will receive exclusive in-game content if you pre-order D2 at one of these retailers:
Gamestop: Death Rides Pack with multiple side-quests that allow adventurers to explore more of the Maker's Realm and Dead Plains, and earn additional experience and loot. Aid an ancient Construct, battle The Bloodless, and retrieve Karn's lost treasure in this exclusive game content.
Amazon: Deadly Despair Pack, which adds a permanent speed boost for Death's trusty steed, Despair, allowing players to travel across the vast world even faster than before.
BestBuy: Angel of Death Pack, which features enhanced armor with an angel-inspired design as well as a pair of matching scythes. In addition, players will receive an exclusive purple-colored visual trail for their crow.
THQ Store: Darksiders II Season Pass which enables you to download Day 60 and Day 90 DLC content packs, plus Maker's Armor and Scythe set which you get right away.
Furthermore, pre-ordering the game during the "Summer of Death" promotion will make you eligible to receive an exclusive Darksiders II t-shirt after the game is out. Make sure to save your pre-order receipt! Detailed instructions on redeeming your t-shirt will be announced on the Darksiders II Facebook page.
Collector's Edition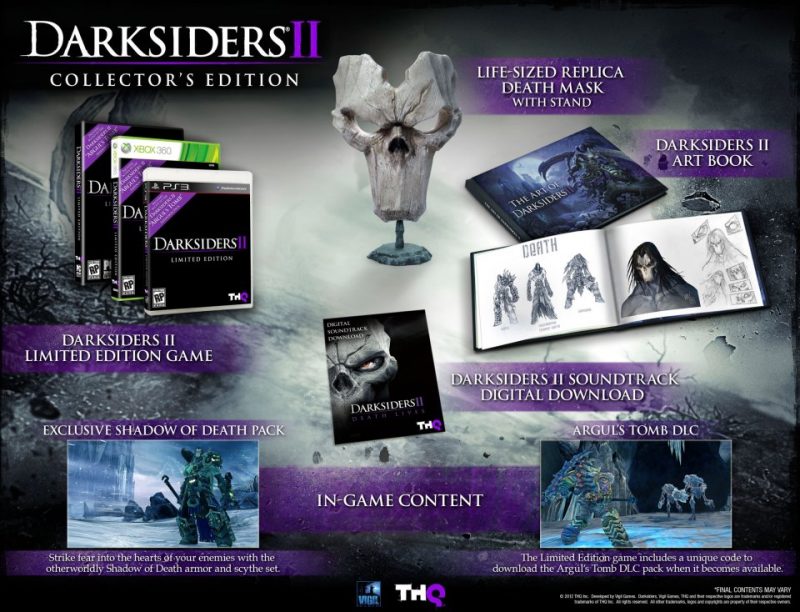 The game is also available in a Collector's Edition which costs $99 and includes the following:
The aforementioned Limited Edition of the game
Life-sized replica Death Mask with display stand
Unique Shadow of Death armor and scythe set with enhanced stats
Darksiders II soundtrack (digital download)
Darksiders II hardcover art book
Darksiders II CE is available in limited quantities as a preorder-only item. It can be purchased at THQ Store and major US retailers (although it appears to have sold out at most places).
Death Eternal trailer
This gloomy trailer introduces the main character of Darksiders II, Death:
Darksiders 2 will be released for Xbox 360, Playstation 3, and PC platforms simultaneously in August 2012.
Check out our other upcoming action games and upcoming pc games.