This game was released on September 04, 2018 and is no longer available to pre-order. Any incentives that were offered are listed below.
Destiny 2: Forsaken is a standalone expansion for Bungie's online shooter. The story takes the player to investigate a recent unrest in the Reef alongside Cayde-6, where they discover that some of the most wanted criminals have staged an escape from the Prison of Elders. There are new regions to explore, and long-lost Awoken secrets to uncover.
Forsaken makes a number of changes to Destiny 2. Among these is a new competitive 4v4 mode Gambit, a new Dreaming City Raid, as well as additional Strikes , story missions, powers, weapons, and gear, including a new weapon archetype the Legendary Bow.
Do note that players need to own the base Destiny 2 game, as well as the Curse of Osiris and Warmind expansions, to play Forsaken. To this end, Bungie, High Moon Studios, and Activision are releasing Destiny 2: Forsaken – Legendary Collection for $59.99, which includes every expansion so far.
Pre-order Bonuses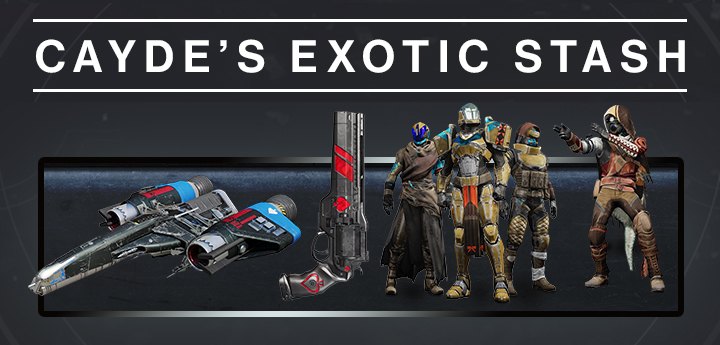 Pre-ordering any edition of the Forsaken expansion for Destiny 2 through participating retailers nets you the Cayde's Exotic Stash DLC:
Ace of Spades Last Hand Exotic Ornament
Queen of Hearts Exotic Ship
Standoff Exotic Emote
Shades of Cayde-6 Armor Shaders
If you miss out, do not despair. According to official sources, all of these items will be attainable through gameplay starting on or about 01.01.19.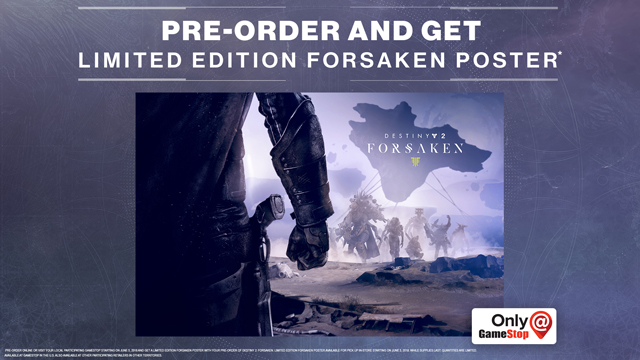 And if you place your pre-order at GameStop, you'll also receive a bonus double-sided poster depicted above. Pre-order the Legendary Collection ($59.99) from the same retailer, and you'll get a set of collectible playing cards.
On the other hand, PlayStation Store pre-orders get a Dynamic Theme.
Digital Deluxe Edition
The Digital Deluxe Edition costs $80 and consists, essentially, of three parts two of which can also be had separately if you so choose:
Destiny 2: Forsaken ($40 to purchase separately): your regular standard expansion.
Annual Pass ($35 to purchase separately): provides bonus rewards and three premium content releases in Winter 2018, Spring 2019, and Summer 2019.
Awoken Legend Set:

Wrath Majestic Legendary Bow Ornament
Dirge Paladin Emblem
Vestian Ghost Shell
GameStop Bundle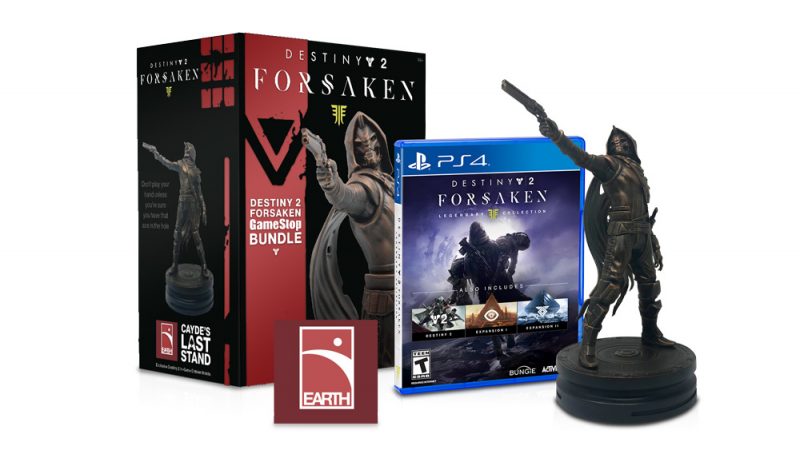 This $99.99 bundle is, unsurprisingly, exclusive to GameStop and consists of the following items:
Destiny 2: Forsaken Legendary Collection (includes the base game and every expansion)
Modern Icons "Cayde's Last Stand" Statue
Exclusive Destiny 2 Emblem
Destiny 2: Forsaken expansion arrives on September 4, 2018.
Check out our other upcoming shooter games and upcoming pc games.