This game was released on August 26, 2011 and is no longer available to pre-order. Any incentives that were offered are listed below.
Deus Ex: Human Revolution is a cyberpunk first person shooter / role-playing game, and the third title in the Deus Ex series. It is a prequel to the original game and takes place 25 years earlier, when human augmentation is still in the experimental stages. DX: HR is developed by Eidos Montreal and published by Square Enix.
The protagonist of the game is Adam Jensen, a security specialist working for a biotech corporation who gets critically wounded during an attack on his workplace, and forcibly augmented with cybernetic parts to save his life. Improve your abilities with even stronger "augs" and uncover a dark plot to take control over mankind!
Conspiracy theories, transhumanism and "Cyber Renaissance" are the main themes of Human Revolution. Like in the first Deus Ex game, you will have a choice about how to accomplish missions and proceed with the story: by using stealth, talking your way through, hacking various electronic systems (2D minigame), or just good old FPS-style shooting.
Deus Ex: Human Revolution pre-order bonus
There are two different digital bonus packs that you can get when you preorder Human Revolution. The Tactical Enhancement Pack contains two extra in-game weapons: a powerful double-barrel Huntsman Silverback shotgun and a silent high-range SERSR Longsword Whisperhead sniper rifle. It also gives you 10,000 credits (in-game currency).
The Explosive Mission Pack includes an exclusive Tong's Rescue mission (featuring a cameo by a character from the original Deus Ex), a Linebacker G-87 grenade launcher, an M-28 Utility remote explosive (UR-DED), and an Automatic Unlocking Device.
Most European retailers seem to be offering the Explosive Mission Pack, while all US-based vendors except Gamestop have the Tactical Enhancement Pack. You can preorder Deus Ex: Human Revolution online at the following US stores to get one of the bonuses:
Gamestop: Explosive Mission Pack
Amazon: Tactical Enhancement Pack
BestBuy: Tactical Enhancement Pack
If you're in the UK, you can reserve your copy of Deus Ex 3 at either GAME or Play.com, both of which are offering the Explosive Mission Pack. Aussies might be interested in the fact that EB Games is offering an exclusive "Augmented Beanie" with Deus Ex preorders.
On the other hand, preordering on Steam will get you a bunch of Team Fortress 2 items, which might interest the fans of that game.
Augmented Edition
The game has two premium editions. The first one, Augmented Edition, comes with a $10 higher price tag and includes a premium package with a 40-page art book, a motion graphic novel, game soundtrack, animated storyboard, and a making-of DVD. Both bonus DLCs mentioned above are also included, at least in the European version – Explosive Mission Pack seems to be Gamestop-exclusive in the States. Check it out below:
Collector's Edition
Then there's the Collector's Edition, which is going to be even bigger, and only available in limited quantities in some European countries, Australia, and New Zealand. It contains everything listed under Augmented Edition, plus a collectable Adam Jensen action figure designed by Play Arts Kai. Click the picture below to get a closer look at its contents.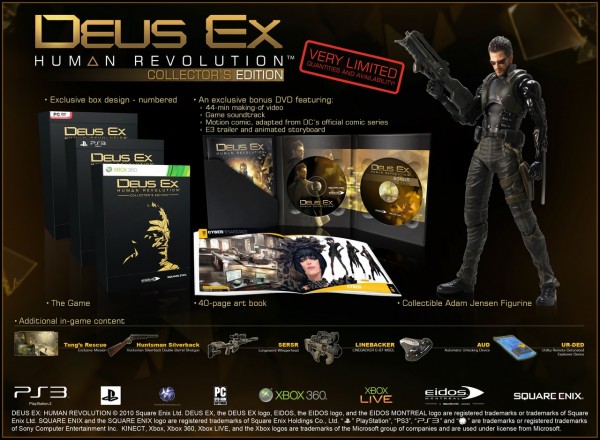 This edition can be found on GAME, HMV, and other UK retailers.
Deus Ex: Human Revolution screenshots
DX: HR uses a heavily modified Crystal Engine by Crystal Dynamics, the makers of Tomb Raider. The game mixes cyberpunk and Renaissance elements, resulting in an interesting, stylish look. You can see some of the impressive in-game screenshots below.
Deus Ex: Human Revolution preview
The art director of DX: Human Revolution, Jonathan Jacques-Belletete, talks about the storyline, the key elements of the gameplay (Combat, Stealth, Hacking and Social), and the augmentation system. They also show some HD gameplay footage. You can watch this preview trailer on G4tv:
The release date of the third Deus Ex title is set for August 23rd in North America, August 25th in Australia, and August 26th in Europe. The game was delayed once, but that isn't necessarily a bad thing as it gives Eidos devs more time to polish the game. Hang in there and follow the news on the official website of DX:HR.
Check out our other upcoming rpg games and upcoming pc games.