This game was released on August 23, 2016 and is no longer available to pre-order. Any incentives that were offered are listed below.
Deus Ex: Mankind Divided is an upcoming cyberpunk-themed action RPG developed by Eidos Montreal. Set two years after the events of Human Revolution, it follows the same protagonist Adam Jensen, who is now working for an anti-terrorist organization called Task Force 29.
The game is fundamentally similar to its predecessor, allowing different approaches to achieve your goals and featuring mechanics like hacking and conversation battles. There are new augmentations, weapons, and ammo types available. In addition, Mankind Divided is said to have more verticality and give the player more freedom of movement than before.
The sequel also comes with a standalone game mode called Breach, where players assume the role of a hacker infiltrating and stealing data from servers using a virtual reality interface. The mode plays like an arcade shooter, complete with a scoring system and leaderboards.
Pre-order bonuses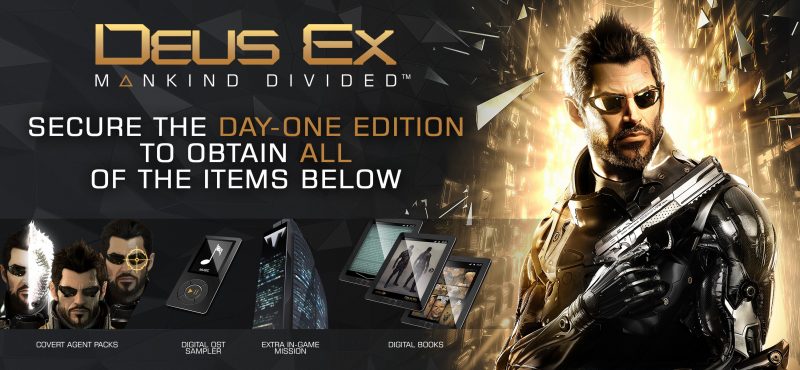 Originally intended as a tiered pre-order scheme, the "Augment Your Pre-Order" program has been scrapped by the game's publisher Square Enix after an outcry from the fans. All the announced incentives are now included with the Day One Edition, and available to anyone who pre-orders the game.
Covert Agent Packs:

Classic Pack (Adam's combat armor, trench coat, and revolver from Human Revolution, plus ammo)
Enforcer Pack (custom-skinned combat armor and rifle, two HE grenades, additional ammo & credits)
Intruder Pack (custom-skinned trench coat and pistol, as well as a silencer, laser, recoil and accuracy upgrade, two EMP grenades, extra ammo and credits)

Digital books: mini artbook, novella, comic book
Extra in-game mission: Desperate Measures
Digital OST sampler (six tracks)
In addition, there are some retailer-exclusive bonuses as well:
Amazon: 24-page mini strategy guide from Prima Games. Deus Ex #1 comic from ComiXology.
GameStop: exclusive Deus Ex Fabric Poster
Microsoft Store: $10 gift code
Xbox Store: a digital copy of Deus Ex: Human Revolution with The Missing Link add-on, playable on Xbox 360 and Xbox One via Backward Compatibility
Digital Deluxe Edition
The Digital Deluxe Edition is priced at $90 for all platforms. It includes all of the Day One content as well as a Season Pass composed of narrative DLC and in-game items. According to the publisher's description, the Pass is "loaded with content that will help to further flesh out the lore of the Deus Ex Universe."
Collector's Edition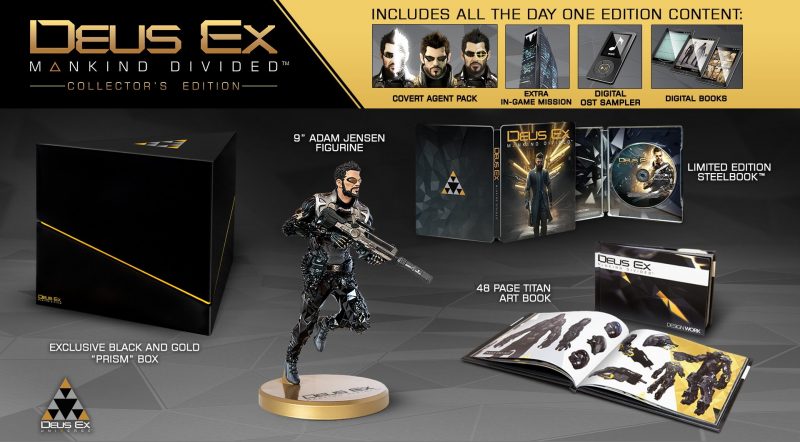 The $140 Collector's Edition of Deus Ex: Mankind Divided comes with all the Day 1 bonuses, plus a 9″ Adam Jensen figurine, a 48-page Titan Artbook, and a Limited Edition Steelbook, all packaged inside a fancy prism-shaped box.
After being delayed for six months, Deus Ex: Mankind Divided is now slated to be released on August 23, 2016 for Xbox One and PlayStation 4 consoles as well as the PC.
Check out our other upcoming action games and upcoming pc games.