This game was released on March 18, 2014 and is no longer available to pre-order. Any incentives that were offered are listed below.
The HD remastered versions of the critically acclaimed Final Fantasy X and X-2 role-playing games are developed by a Chinese studio Virtuos and published by Square Enix. Both games will be released on a single BD for the PS3, and as a set for PS Vita (first game on a cartridge, and second one available as a download) in North America. Besides greatly improved graphics, FFX/X-2 HD also feature rearranged music and some additional content.
Pre-order bonus
The pre-order incentive for Final Fantasy X | X-2 HD Remaster is pretty straightforward: reserve the game in advance, and you'll get an automatic upgrade to the Limited Edition, which includes concept art and commentary from the original FFX and FFX-2 development teams.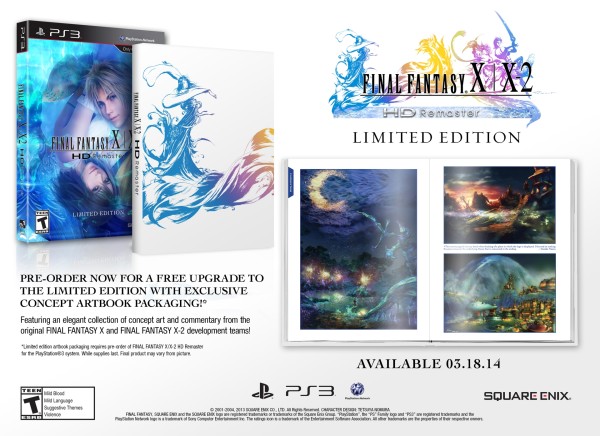 This deal is available to those who pre-order the PS3 version of the game at Amazon, GameStop, Walmart, or the Square Enix store.
Owners of PS Vita systems are also not forgotten. The publisher is offering three exclusive Art Cards with Final Fantasy X/X-2 HD Remaster pre-orders for the handheld console: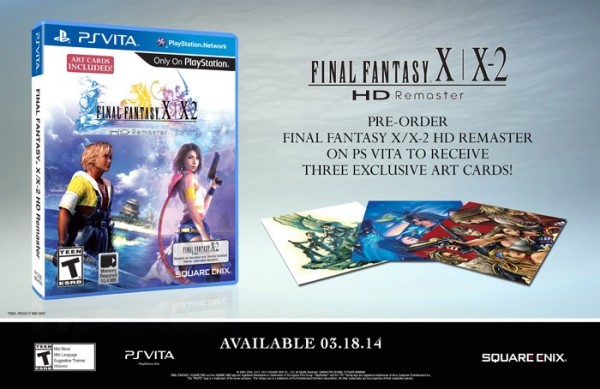 Collector's Edition
Available exclusively at Square Enix store, this PS3-exclusive edition includes a 40-page hardcover art book, a soundtrack with images from the game, and five litographs of FFX/X-2 artwork and characters. Furthermore, by pre-ordering the CE you are automatically entered to win some additional prizes.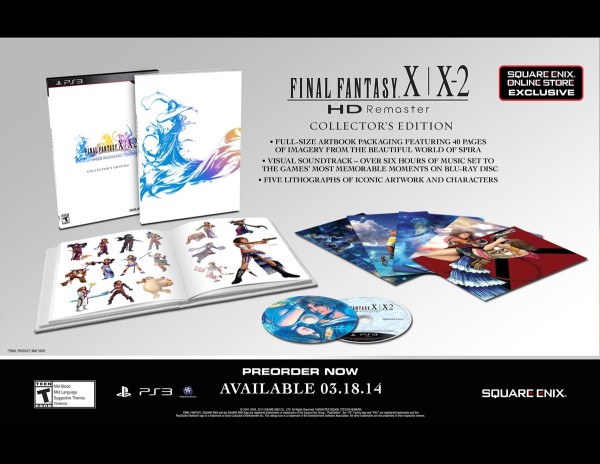 The Collector's Edition will set you back $79.99.
Valentine's Day trailer
The latest official trailer is all about Tidus and Yuna.
Final Fantasy X | X-2 HD Remaster is scheduled to be released on March 18th in North America, March 20th in Australia, and March 21st in Europe for both PlayStation 3 and PS Vita consoles.
Check out our other upcoming rpg games and upcoming playstation 3 games.