This game was released on August 27, 2013 and is no longer available to pre-order. Any incentives that were offered are listed below.
Final Fantasy XIV: A Realm Reborn is a relaunch of the original FFXIV with a brand new client, improved engine, different server system, streamlined interface, addition of new jobs as well as modification of existing ones, and so on. It does look like Square Enix did an impressive job of addressing the shortcomings of the game's previous incarnation.
Meanwhile, the lore and storyline of the game stayed largely the same, although some things have changed there as well. In order to explain the changes in the land of Eorzea, A Realm Reborn takes place five years after the events in the original.
Pre-order bonuses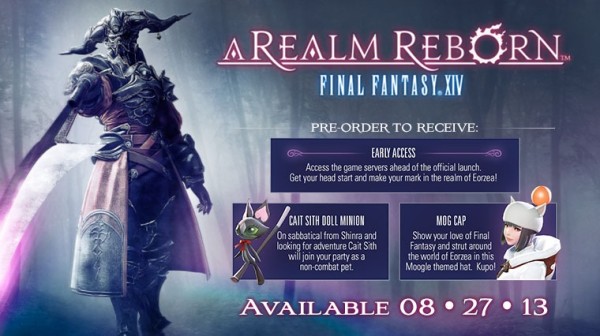 Pre-order FFXIV: A Realm Reborn at participating retailers to receive the following:
Early access: start playing before the official launch.
Cait Sith Doll: this minion will follow you on your adventure as a non-combat pet.
Mog Cap: a hat for your character fashioned after the Final Fantasy moogle race.
These bonuses are available at the usual places like Amazon and GameStop.
Collector's Edition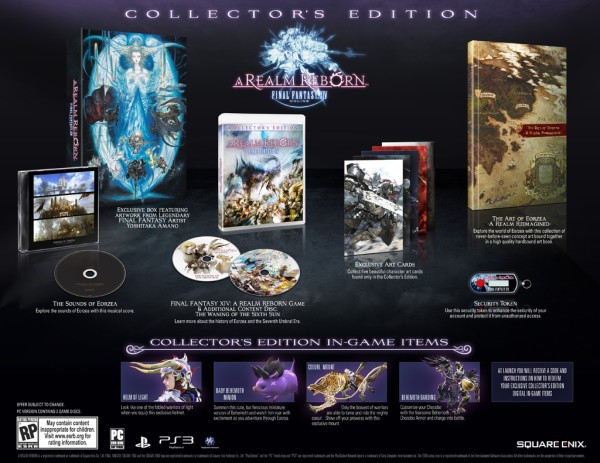 The game is also available in a reasonably-priced ($79.99 for PS3, $69.99 for the PC) Collector's Edition, which offers the following:
Box art by Yoshitaka Amano
The Art of Eorzea: A Realm Reimagined: a hardbound art book featuring concept art.
The Waning of the Sixth Sun: a Blu-ray disc that features a cinematic look at the events that led up to the realm being reborn.
The Sounds of Eorzea:  a collection of music from FFXIV: A Realm Reborn.
Five art cards created by the CG artists at Square Enix Visual Works.
Final Fantasy XIV: A Realm Reborn branded security token to secure your account.
Four bonus in-game items:

Helm of Light: look like one of the fabled Warriors of Light when you equip this exclusive helmet.
Baby Behemoth Minion: summon this cute, yet ferocious miniature version of Behemoth and watch him roar with excitement as you adventure through Eorzea.
Coeurl Mount: only the bravest of warriors are able to tame and ride the mighty coeurl. Show off your prowess with this exclusive mount!
Behemoth Barding: customize your Chocobo with the fearsome Behemoth Chocobo Armor and charge into battle.
A New Beginning
This rather epic CGI trailer sets the stage for the upcoming game.
Final Fantasy XIV: A Realm Reborn will launch on August 27, 2013 worldwide.
Check out our other upcoming mmorpg games and upcoming pc games.