This game was released on March 06, 2018 and is no longer available to pre-order. Any incentives that were offered are listed below.
Titled Royal Edition, the definitive version of Final Fantasy XV contains over 20 pieces of DLC (including all Season Pass content), an expanded Insomnia City Ruins dungeon, new gear, side quests, and bosses. The upcoming re-release also adds a first-person camera, a more action-oriented mode of the Armiger, and lets you control the Royal Vessel boat. Existing owners of Final Fantasy XV will be able to upgrade to this version by purchasing a "Royal Pack" priced at $19.99.
Alongside the Royal Edition for consoles the JRPG will see a PC release via Steam, Microsoft Store, and Origin. This Windows Edition offers the same content as the console version, and comes with support for up to 8K resolutions and HDR10 (Windows 10 Fall Creators Update is required for the latter).
Windows Edition Pre-order Bonuses
These are the in-game bonuses to be had by pre-ordering the Final Fantasy XV Windows Edition:
Microsoft Store: FFXV Powerup Pack with items designed to power up your performance in combat:

Dodanuki Sword
10x Elixir
10x Phoenix Down

Steam: FFXV Fashion Collection containing a selection of outfits for the prince, each with a special buff:

Episode Gladiolus T-shirt which enhances strength
Episode Prompto T-shirt which accelerates HP recovery
Episode Ignis T-shirt which increases critical hit rate
Comrades T-shirt which increases maximum HP

Origin: FFXV Decal Selection, which includes an array of cool and colorful decals for the Regalia, celebrating Gladiolus, Prompto, Ignis, and the men and women of the Kingsglaive.
Additionally, those who pre-purchase or buy the game from Steam before May 1st will receive the Half-Life pack via Steam Workshop containing Gordon Freeman's HEV Suit, Scientist Glasses, and Crowbar for Noctis. The costume can be worn by the player avatar in the multiplayer expansion Comrades as well.
The official website does state that the physical version of Windows Edition does not come with any pre-order or early purchase bonuses.
Royal Edition Pre-order Bonuses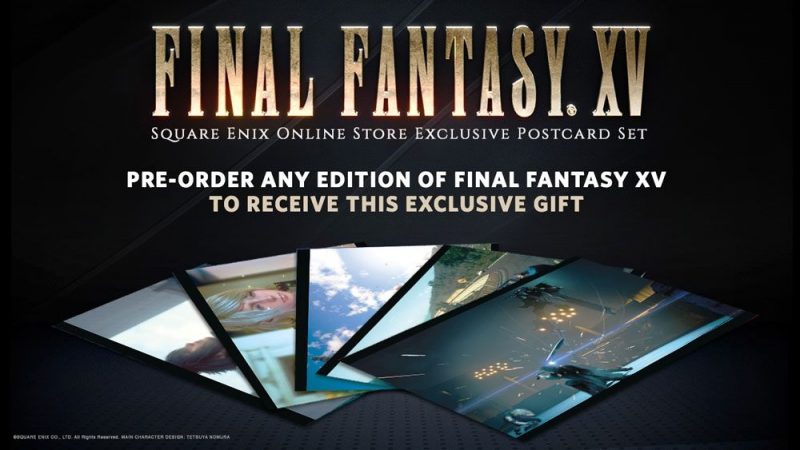 And here are the pre-order incentives we've located for the console version of the game:
Square Enix Store: a set of five exclusive postcards.
The definitive version of Final Fantasy XV is slated for March 6, 2018.
Check out our other upcoming action games and upcoming pc games.