This game was released on November 19, 2019 and is no longer available to pre-order. Any incentives that were offered are listed below.
Football Manager 2020 puts the player in charge of a soccer club of their choice and tasks them with signing athletes, training, managing finances, and more, with the ultimate goal of growing the team into champions. New features in FM20 include a Development Center for unearthing talent, a Club Vision board that lists the club's short- and long-term objectives, and improvements to backroom staff.
Much like its predecessors, the game will be available in several versions: the core Football Manager 2020 for Windows PCs and Mac with all the bells and whistles ($49.99), the streamlined FM20 Touch for Nintendo Switch ($29.99), and the similarly simplified FM20 Mobile for iOS and Android.
Pre-order Bonuses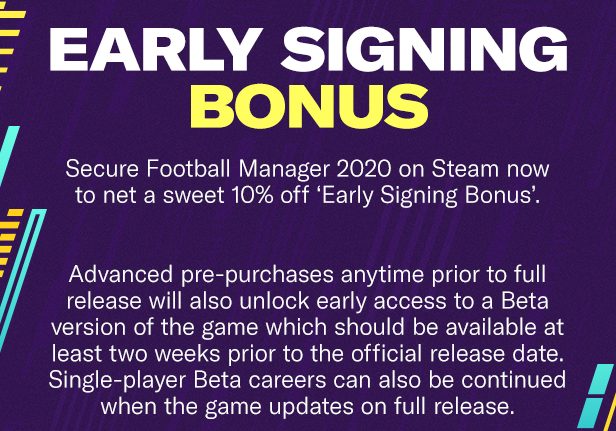 The early customer bonuses for Football Manager 2020 are nigh-identical to those we saw for the previous installment. By pre-purchasing the full game via the official store, Steam, or an authorized reseller, you'll receive the following perks:
Beta access two weeks prior to launch, with single-player careers carrying over to the full release
10% discount
Notably, purchasing the full version of the game also grants a free digital copy of FM20 Touch for PC or Mac.
Arsenal Edition ($49.99)
An officially licensed Arsenal Club Edition is available exclusively through the FM Store. In addition to the base game, it includes Arsenal club crest, kits, and the players' faces – and yes, these aren't included in the Standard Edition of Football Manager 2020.
Football Manager 2020 launches November 19, 2019 on PC and Mac, with Nintendo Switch release lagging a week or two behind. The game will also be out on Google Stadia cloud service, which according to the developers, will offer the fastest version of FM20 owing to the superior hardware.
Check out our other upcoming simulation games and upcoming nintendo switch games.