This game was released on February 14, 2017 and is no longer available to pre-order. Any incentives that were offered are listed below.
For Honor is a hack-and-slash title developed by Ubisoft Montreal for Windows and current-gen consoles. The game has three factions – the Knights, the Samurai, and the Vikings – with four classes each, wielding authentic weapons and possessing distinct combat abilities.
There is a story campaign as well as different multiplayer modes including PvP, which appears to be the focus of the game. In particular, the developers laud the "Art of Battle" system which gives the players finer control over their character during duels, allowing them to react to the moves of their opponent by parrying and counter-attacking.
Pre-order bonuses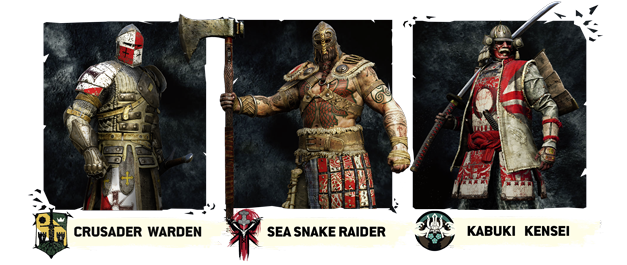 Pre-order For Honor and get the "Legacy Battle Pack" with three exclusive armor designs: Crusader Warden, Sea Snake Raider, and Kabuki Kensei. Any additional retailer or platform incentives are listed below:
GameStop: one exclusive faction pin, chosen at random (Knight, Viking, or Samurai).
PlayStation Store: Samurai Emblem, Knights Emblem, Vikings Emblem, Kensei, Raider, and Warden PSN Avatars.
Deluxe Edition
The Deluxe Edition retails for $69.99 and comes with the digital "Deluxe Pack" filled with exclusive Day One content such as customization items and a special execution effect.
Gold Edition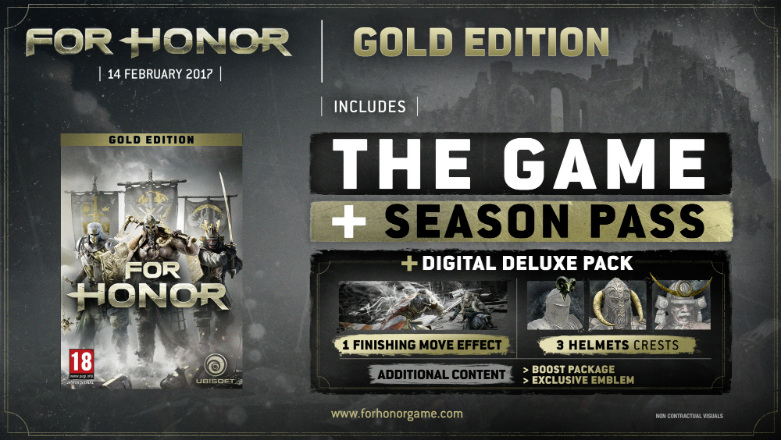 This edition adds a Season Pass subscription on top of the Deluxe Edition content, bringing the price up to $99.99. The Pass, which can also be purchased separately ($39.99), grants the following DLC:
Six new Heroes available a week before released to all players
Six elite outfits to customize the new Heroes
Day One War Pack
One exclusive sunbeam effect on emotes for all Heroes
Three exclusive emblem outlines
Three scavenger crates to unlock additional gear
30-day Champion Status that gives XP boosts to friends, more XP from crafting, and additional end-match loot
Collector's Edition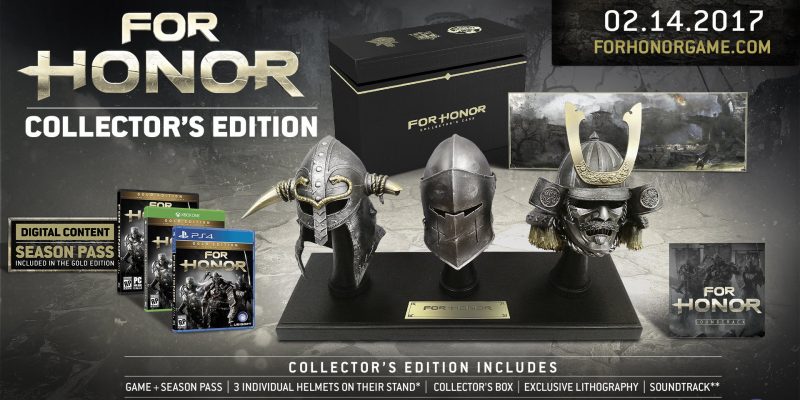 This $129.99 edition is only available from the publisher's online store, Uplay. In addition to all the Gold Edition content listed above, it contains three individual Faction helmets on a stand, the game's soundtrack, and an exclusive lithograph, all packed inside a chest-like Collector's Box.
Apollyon Collector's Edition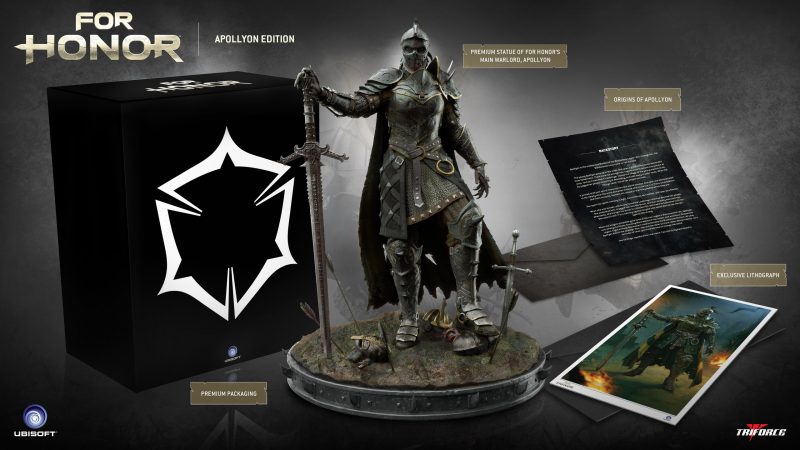 The largest and most expensive ($219.99) of them all, Apollyon Edition of For Honor is exclusive to GameStop and includes the following:
Gold edition of the game
Premium CE Packaging
14″ Apollyon Statue (courtesy of TriForce): standing over a foot tall, this highly-detailed statue is an accurate reproduction of For Honor's main Warlord.
Apollyon Lithograph: the Warlord of the Blackstone Legion seeks to bring war to her enemies in this exclusive Limited Edition Lithograph.
Origins Note: uncover Apollyon's previously untold origins. What secrets lie in the past of the Blackstone Legion's mysterious leader?
The release date of For Honor is set for Valentine's Day, February 14, 2017.
Check out our other upcoming action games and upcoming pc games.