This game was released on May 28, 2013 and is no longer available to pre-order. Any incentives that were offered are listed below.
Fuse (formerly known as Overstrike) is an upcoming action / shooter title developed by Insomniac Games and published by Electronic Arts. The plot of the game is centered around the titular Fuse, a mysterious alien power source which has fallen into the hands of a terrorist organization. An elite team called Overstrike 9 is tasked with recovering it.
At its core, Fuse is a 4-player cooperative shooter with four diverse classes, each of which has its own Fuse-powered weapon. It is said to be a fast-paced game with over-the-top action, as is expected from Insomniac Games.
Pre-order bonuses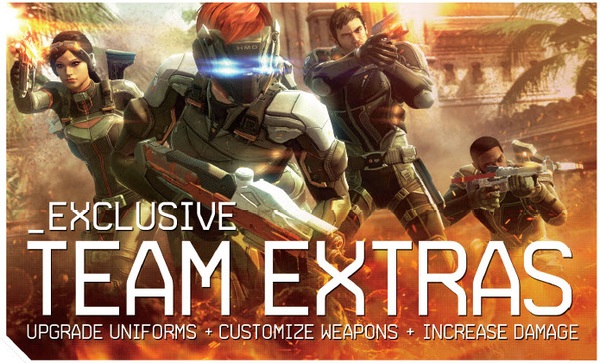 The list of Fuse preorder bonuses goes as follows:
4 Hyperion Prototype Weapon Skins
4 Hyperion Prototype Agent Armor Skins
Special "Quickdraw" Team Perk
None of this stuff is retailer-specific, so you don't have to worry about missing out. The official website links to Amazon, Origin, and GameStop on their pre-order page. We assume all these retailers will have the preorder bonus, even if it isn't mentioned on all of the product pages yet.
Reveal trailer
This official trailer from September 2012 shows how the game has changed since the days it was known as Overstrike:
Fuse is scheduled to release on May 28, 2013 for Playstation 3 and Xbox 360 consoles.
Check out our other upcoming action games and upcoming playstation 3 games.