This game was released on October 18, 2022 and is no longer available to pre-order. Any incentives that were offered are listed below.
Ghostbusters Spirits Unleashed is an asymmetrical multiplayer game that can be enjoyed by up to five players at once. The game sets out four ghostbusters each equipped with a proton pack and nerves of steel on ghost-hunting adventures through various settings. Borrowing heavily from the Ghostbusters movie franchise, the game features iconic characters and gear such as proton packs and PKE meters.
Developed and published by IllFonic, Inc., Ghostbusters Spirits Unleashed will be playable on PlayStation 4, PlayStation 5, Xbox One, Xbox Series X|S, and Windows PC.
Get to play as a ghost and have 4 other players try and capture you giving you the ability to possess objects, slime other players plus much more.
As you progress through the game, you will unlock new upgrades, some cosmetic and others functional for both ghostbusters and ghosts, keeping the experience fresh.
In the firehouse, get to pick missions, practice using the proton packs and capturing ghosts, customize your character and interact with original characters such as Ray Stantz and Winston Zeddemore.
Pre-order Bonuses
If you make a purchase through these links, we may get a share of the sale.
Standard Edition Pre-order ($39.99)

Pre-ordering the Standard Edition of the game will get you advance access to in-game content and characters that can be unlocked later such as:
Slimer
Custom Particle Thrower and Proton Pack
Special Clothing Colorways
Collector's Edition ($69.99)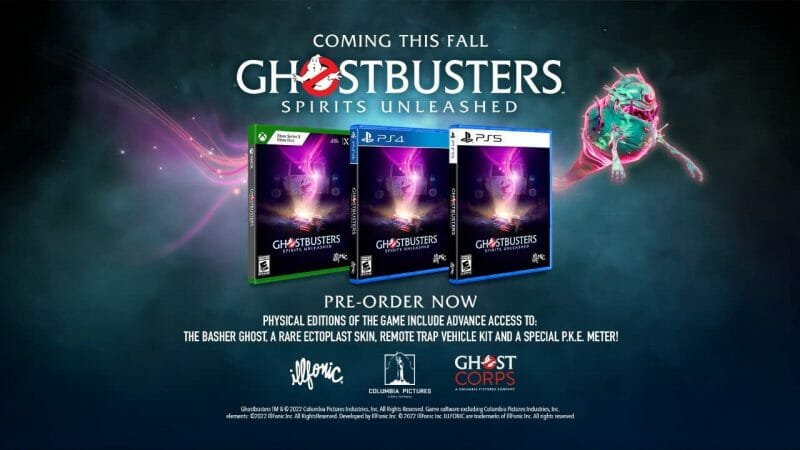 The game has a Collectors Edition that will get you advance access to rare items such as:
The Basher Ghost
A rare ectoplast skin
Remote Trap Vehicle Kit
Special P.K.E Meter
PlayStation
Xbox
Ghostbusters Spirits Unleashed will be released on October 18th, 2022, and will be playable on PlayStation 5, PlayStation 4, Xbox Series X|S, Xbox One, and Windows PC
Check out our other upcoming adventure games and upcoming playstation 4 games.