This game was released on October 27, 2020 and is no longer available to pre-order. Any incentives that were offered are listed below.
Ghostrunner is a first-person hack and slash game developed by One More Level. It is set in a post-apocalyptic cyberpunk world where the entire humanity shelters in an enormous megastructure called the Dharma Tower. The player assumes the role of a cyberninja equipped with a monomolecular katana and slices their way from the tower's bottom to the top to confront its tyrannical Keymaster.
The game promises fast-paced combat with mechanics such as one-hit-kill, bullet time, and parkour. According to the developer, Ghostrunner is targeted at hardcore players and will test both their reflexes and problem-solving skills.
Pre-order Bonuses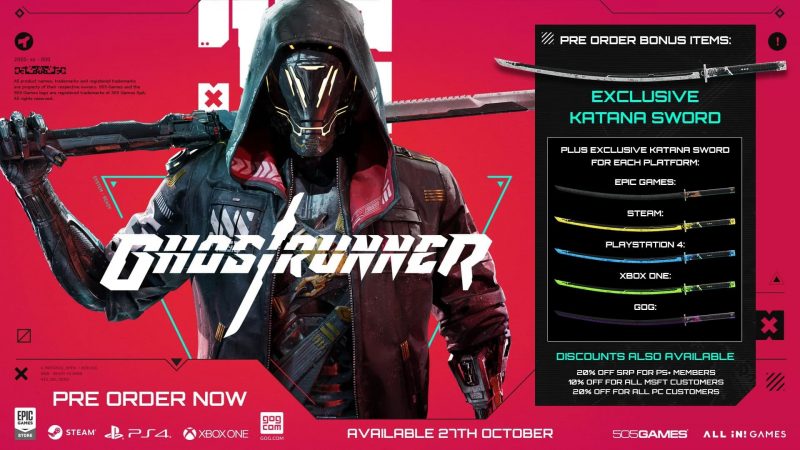 First off, pre-ordering Ghostrunner digitally nets you two in-game katana swords to slash your enemies with. One katana is a generic pre-order bonus, while the other is platform-exclusive, and both of them won't be attainable after launch. Microsoft Store, PlayStation Store, Steam, GOG, and Epic Games are each getting an exclusive katana.
Secondly, there are some considerable discounts depending on the platform that reduce the game's price from the original $29.99:
Xbox: 10% off
PC: 20% off
PlayStation: 20% off for PS Plus members
Ghostrunner is scheduled to launch for Xbox One, PlayStation 4, and PC on October 27, 2020.
Check out our other upcoming action games and upcoming pc games.