This game was released on November 17, 2022 and is no longer available to pre-order. Any incentives that were offered are listed below.
Get ready for a zany udderly chaotic experience in Goat Simulator 3. Goat Simulator is a wacky game with zero story but tons of fun to be had. Put yourself in the hooves of Pilgor, no one's favorite female goat, as she terrorizes an open world littered with exciting new activities and mini-games. This time around Goat Simulator gives you a modest herd of up to three friends, letting you up the ante when it comes to creating complete mayhem.
Goat Simulator 3 is a multiplayer action game developed by Coffee Stain North and published by Coffee Stain Publishing and will be playable on PlayStation 5, Xbox Series X and Series S, and Microsoft Windows.
Set in the fictional world of San Angora, take to the streets and craft your own adventures alone or with friends, licking, headbutting, and flinging yourself across the expansive new map.
Packed with an insane amount of customization options, dress up your goat real fancy and strap it to a jetpack and see how high you can go before you hit an invisible wall.
Pre-order Bonuses
If you make a purchase through these links, we may get a share of the sale.
Goat Simulator 3 Standard Edition ($29.99)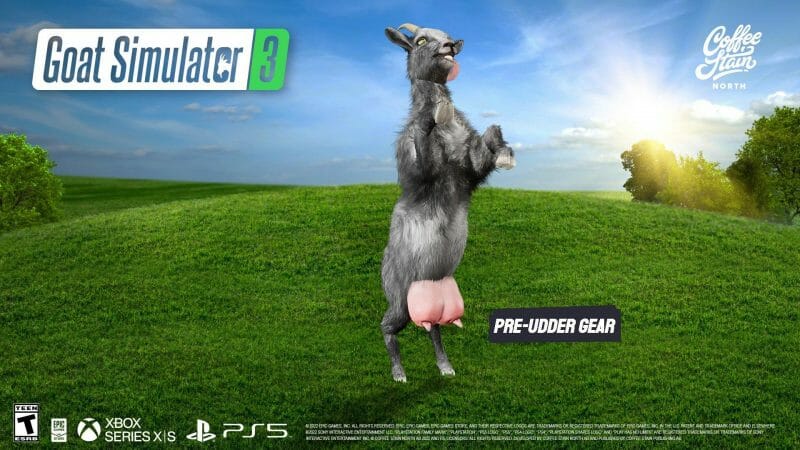 Preordering the Standard Edition of Goat Simulator 3 gets you the highly coveted pre-udder gear.
Goat Simulator 3 Digital Downgrade Edition ($39.99)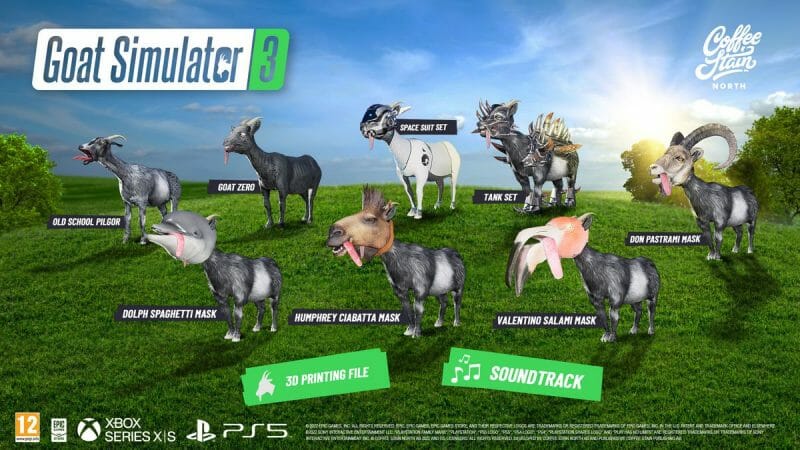 The Digital Downgrade Edition of the game is a bit more generous and gets you a bunch of items from the previous Goat Simulator DLC, remastered for this game. Included is:
Original Pilgor skin
Goat Zero skin
Space and Tank sets
Valentino Salami mask
Dolph Spaghetti mask
Humphrey Ciabatta mask
Digital Soundtrack
PlayStation
Xbox
Goat Simulator 3 will be released on November 17th, 2022, and will be playable on PlayStation 5, Xbox Series X|S, and Windows PC
Check out our other upcoming adventure games and upcoming playstation 5 games.