This game was released on November 12, 2020 and is no longer available to pre-order. Any incentives that were offered are listed below.
Godfall is a third-person "looter-slasher" action RPG developed by Counterplay Games and published by Gearbox. You play as the last Valorian knight, a mighty warrior able to control Valorplates: legendary armor sets that transform the wielder into an unstoppable master of melee combat. Your task is to climb the five elemental realms and challenge the mad god, Macros, who awaits at the top.
Godfall features an extensive loot system and Valorplate customization. You can play alone or join forces with up to two other players in a co-op at any point. To this end, the game requires an online internet connection at all times.
Pre-order Bonuses
Pre-order Godfall to receive bonus digital loot:
Starter Pack Items:

Early Augments
Amulet Trinket
Ring Trinket

Chrome Valorplate Skins for Silvermane, Phoenix, and Greyhawk
Zer0's Sword from Borderlands 2
Yellow Typhon Valorplate Skin (Epic Games Store exclusive)
Red Typhon Valorplate Skin (PS5 exclusive)
The standard edition of Godfall is priced at $69.99 on the PS5 and $59.99 on PC. There also are two special editions detailed below.
Deluxe Edition ($79.99)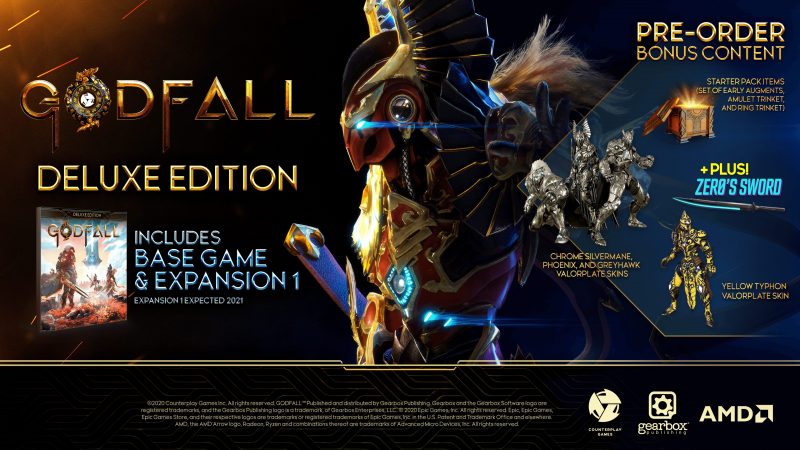 The Deluxe Edition of Godfall bundles the base game with the first expansion to be released in 2021.
Ascended Edition ($89.99)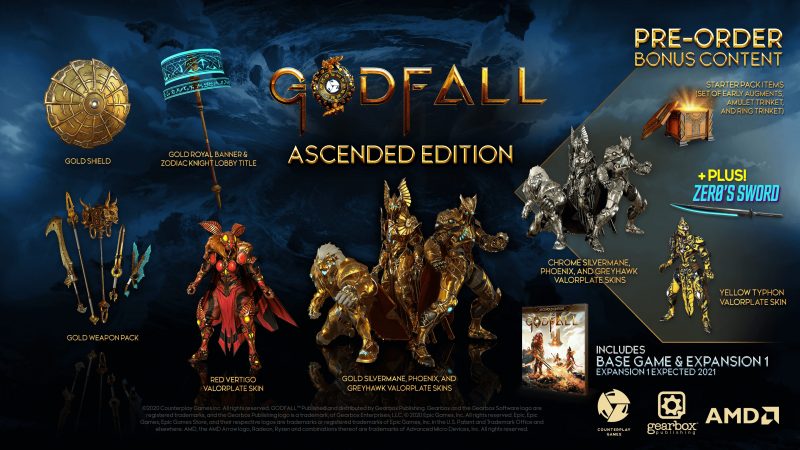 Lastly, the Ascended Edition includes the game itself, the expansion, and various gold-themed in-game goodies:
Base Game & Expansion 1
Gold Valorplate skins for Silvermane, Phoenix, and Greyhawk
5 Gold weapon skins
Gold Shield skin
Gold Royal Banner skin
Unique multiplayer lobby title
Orange Valorplate skin for Vertigo
Godfall launches on November 12, 2020 exclusively on PlayStation 5 and PC via Epic Games Store.
Check out our other upcoming action games and upcoming pc games.