This game was released on October 21, 2022 and is no longer available to pre-order. Any incentives that were offered are listed below.
Gotham is in crisis. Batman is dead, and the criminal underworld has had a massive resurgence since then. Gotham Knights is an open-world, action RPG game that puts you in control of the remaining Bat-Family: Nightwing, Red Hood, Batgirl, and Robin; as you see them through their quest to rid Gotham of crime and bring hope to its citizens when all seemed lost.
Developed by Warner Bros Montreal and published by Warner Bros Entertainment. Gotham Knights will be available on PlayStation 5, Xbox Series X|S, and Microsoft Windows this Autumn.
In the most dynamic and interactive Gotham to date, drop down on villains and thugs from the skyscrapers that riddle the city serving justice throughout all 5 city boroughs. Each character in the game boasts a unique fighting and traversal style encouraging you to switch among them in between playthroughs.
Gotham Knights can be played solo but also features a drop-in drop-out co-op feature that allows for other players to seamlessly join in on sessions without interrupting gameplay.
Pre-order Bonuses
If you make a purchase through these links, we may get a share of the sale.
Standard Edition ($69.99)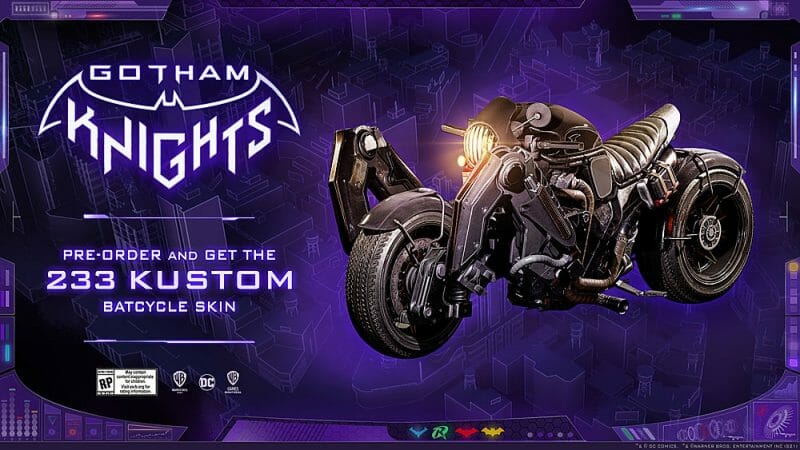 Pre-ordering the Standard Edition of Gotham Knights gets you the base game as well a a unique 233 Kustom Batcycle Skin.
Deluxe Edition ($89.99)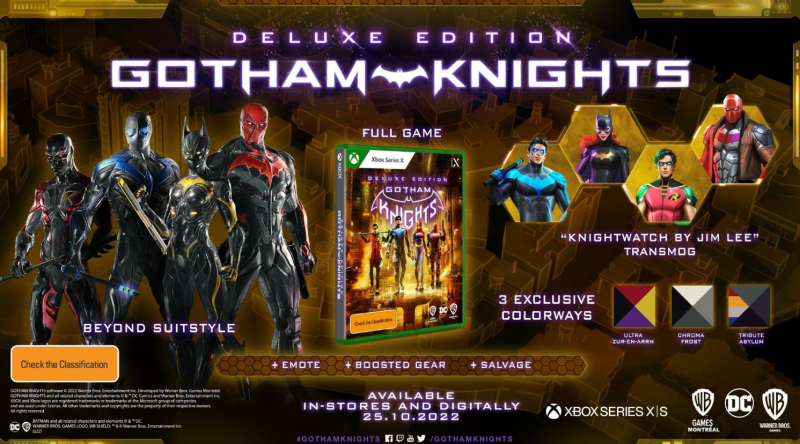 Picking up the Deluxe Edition of Gotham Knights will nab you the base game, the pre-order bonus as well as some exclusive content such as the visionary pack which includes:
Exclusive ''Knightwatch by Jim Lee'' Transmog
Beyond Suitstyle, inspired by Batman Beyond universe
Salvage to build new Gear
Boosted Gear
Exclusive Emote
3 Exclusive Suit Colorways
Ultra Zur-En-Arrh
Chroma Frost
Tribute Asylum
Collector's Edition ($299.99)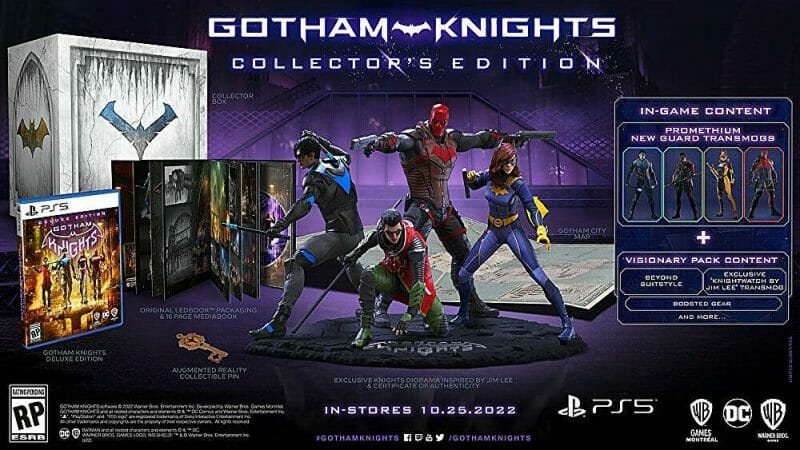 The Gotham Knights Collector's Edition is the ultimate content-packed version of the game and includes digital content as well as physical merchandise such as:
Gotham Knights Deluxe Edition
Original Ledbook™ Packaging & 16 Page Mediabook
Augmented Reality Collectible Pin
Exclusive Knights Diorama & Certificate of Authenticity
Gotham City Map
Collector Box
Promethium New Guard Transmogs
PlayStation
Xbox
PC
Gotham Knights will be released on October 21st, 2022, and will be playable on PlayStation 5, Xbox Series X|S, and Windows PC.
Check out our other upcoming action games and upcoming playstation 5 games.