This game was released on December 03, 2020 and is no longer available to pre-order. Any incentives that were offered are listed below.
Immortals: Fenyx Rising – previously known as Gods and Monsters – is an upcoming third-person action-adventure game from Ubisoft. Players take on the role of the titular Fenyx, a winged demigod, and embark on a quest to save the Greek gods from a dark curse. Fenyx can be played as male or female with a customizable appearance.
Fenyx Rising features a stylized open world across seven unique regions that can be freely explored and offers side-quests and puzzles outside of the main storyline. The player can upgrade Fenyx's gear and skills, and acquire powerful godlike gifts such as the sword of Achilles or the bow of Odysseus.
Pre-order Bonuses

Pre-order Immortals Fenyx Rising to receive a bonus quest – A Tale of Fire and Lightning – and discover the story of Helios and Phaeton. Completing this quest unlocks the Blazing Wings for Fenyx.
Additional retailer bonuses are listed below:
GameStop: up to $10 Game Coin for PowerUp Rewards members
Gold Edition ($99.99)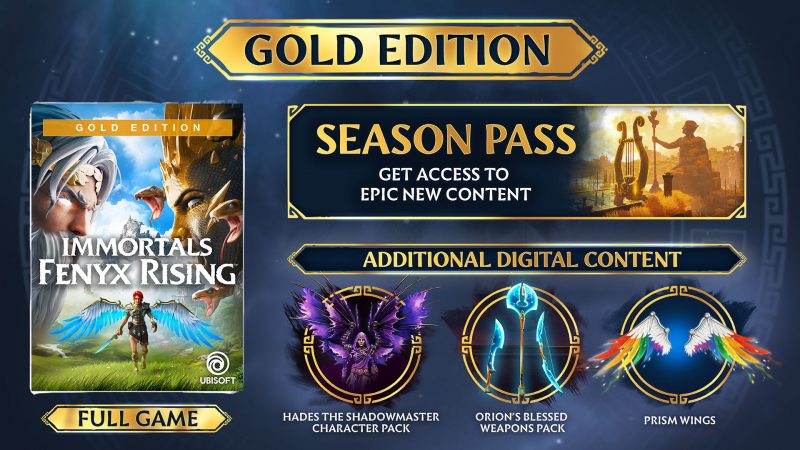 Ubisoft wouldn't be Ubisoft without special editions, and Fenyx Rising is no exception. In addition to a copy of the base game, the $100 Gold Edition comes with the following:
Season Pass

Includes new gameplay experiences and a bonus When the Road Gets Rocky quest with dedicated rewards.

Hades the Shadowmaster Character Pack

Includes a Hades-themed armour, helmet, horse, wings & phoenix.

Orion's Blessed Weapons Pack

Contains Orion-themed skins for your Sword, Axe, and Bow.

Prism Wings

Each individual strand of each plume contains in it all imaginable colors of the rainbow.
Immortals Fenyx Rising is launching on December 3, 2020 for Xbox One, Xbox Series X, PlayStation 4, PlayStation 5, Nintendo Switch, and PC via Epic Games Store and Ubisoft Store. PlayStation 4 and Xbox One copies will be getting free upgrades to their next-gen counterparts.
Check out our other upcoming action games and upcoming nintendo switch games.