This game was released on December 01, 2015 and is no longer available to pre-order. Any incentives that were offered are listed below.
Just Cause 3 is the latest title in the open-world action game series by Avalanche Studios. Set in a fictional Medici island in the Mediterranean Sea, JC3 features an immense 400 square mile map packed with more content than offered by the previous installments.
The game's world consists of five major biomes with unique landscapes, and has more verticality due to scalable high-rise buildings, mountain ranges, and underground caves. Traversing the expansive map is also easier thanks to new tools like the permanently-equipped wingsuit or the upgraded multi-tether grapple hook.
Environmental destruction remains a huge part of the game, and Just Cause 3 offers more freedom in this regard than its predecessors. The improved physics-based system allows Rico to even take down bridges and other massive structures in different ways.
Pre-order bonuses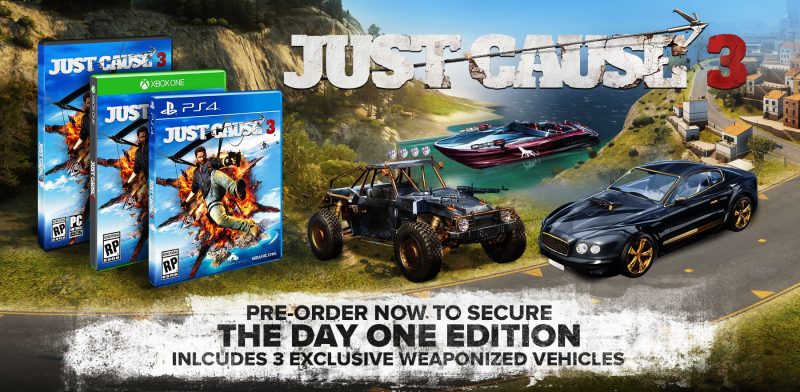 Pre-ordering Just Cause 3 will get you a free upgrade to Day 1 Edition, which comes with three weaponized vehicles: Mugello Delphino GLF speedboat, Urga Pocomaxa X4 buggy, and Kerner Serpente R12 supercar. More impressively, every owner of said edition will be eligible to enter the "Win An Island Contest" at JC3WinAnIsland.com, which involves racking up the most Chaos points in 90 days following the launch. The island is worth up to $50,000, and the winner can also choose to take cash instead, according to Square Enix.
GameStop is the only brick-and-mortar retailer which has announced exclusive DLC so far; pre-order JC3 there to get a Capstone Bloodhound RPG.
Meanwhile, all digital pre-orders (whether on Steam, PlayStation Store, or Xbox One) get the Final Argument Sniper Rifle equipped with explosive rounds.
Lastly, for those looking to save some money, Steam has a pre-purchase offer with 10% off for the game itself as well as its expansion packs. Microsoft Store, on the other hand, is offering a $10 digital Xbox gift card.
Collector's Edition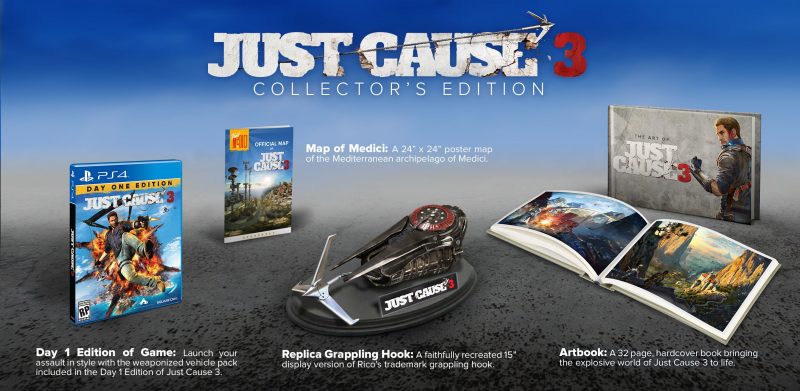 The Collector's Edition is priced at $110 and includes a 24″ x 24″ poster map of Medici, a 15″ Grappling Hook replica, and a 32-page hardcover artbook.
"Burn it!" trailer
https://www.youtube.com/watch?v=ZMRVHDWsCrQ
Just Cause 3 is scheduled for a December 1, 2015 release on current-gen consoles and PC. Xbox One version of the game includes a digital copy of Just Cause 2, playable on Xbox One via backwards compatibility.
Check out our other upcoming action games and upcoming pc games.