This game was released on December 04, 2018 and is no longer available to pre-order. Any incentives that were offered are listed below.
Just Cause 4 is an open-world action-adventure game developed like its predecessor by Avalanche Studios and published by Square Enix. It takes the rogue agent Rico Rodriguez to a conflict-ravaged South American country of Solis, where he has to face the Black Hand – the world's most powerful private military organization headed by the unpredictable Gabriela Morales.
The game is said to offer 100 square kilometers of exotic locations to explore, including bustling cities, rural grasslands, rainforests, desert, and snowy mountain peaks. There is a variety of new vehicles to play with including military jets, helicopters, turbo-fueled sports cars, and construction machines. Just Cause 4 also introduces extreme weather conditions such as massive tornadoes, blizzards, and tropical lightning storms – which a savvy player can harness to their advantage thanks to the enhanced in-game physics.
Pre-order Bonuses

Boxed pre-orders of Just Cause 4 receive the Day One Edition with Neon Racer Pack which includes:
Neon Racer Supercar: blitz around in your very own modified supercar with boost valve on tap. You'll be the fastest thing in Solis!
Neon Racer Wingsuit: race across the skies with this unique neon design.
Neon Racer Parachute: drift over the clouds at speed with this unique neon design.
Digital pre-orders come with the Deathstalker Scorpion Pack containing customised gear crafted by Rico Rodriguez himself:
Deathstalker Scorpion Muscle Car: this iconic car comes with enhanced road performance and resilience thanks to Rico's special tuning.
Deathstalker Scorpion Assault Buggy: reinforced by Rico himself, this rugged vehicle boasts the perfect setup for off-road stunts and even has a mounted machine gun.
Deathstalker Scorpion Explosive Rifle: Rico remains a force to be reckoned with when armed with this custom rifle featuring secondary tracer fire and shells that explode upon impact.
Deathstalker Scorpion Wingsuit: strike down from above with this signature design.
Deathstalker Scorpion Parachute: own the skies of Solís with this iconic scorpion design.
Lastly, let's take a look at the system- and retailer-exclusive bonuses on top of those already mentioned:
GameStop: exclusive Day One Steelbook Edition, plus a free DLC weapon designed by the community.
Amazon: exclusive digital mini map and $10 promotional credit for Prime members.
Best Buy: exclusive Renegade DLC pack (drone rifle, wingsuit, parachute) and $10 in reward certificates.
PlayStation Store: Rico Rodriguez static theme.
Steam: exclusive wallpaper.
Pre-orders of either Deluxe or Gold editions also receive 24-hour early access. The contents of both premium editions are detailed below.
Digital Deluxe Edition ($69.99)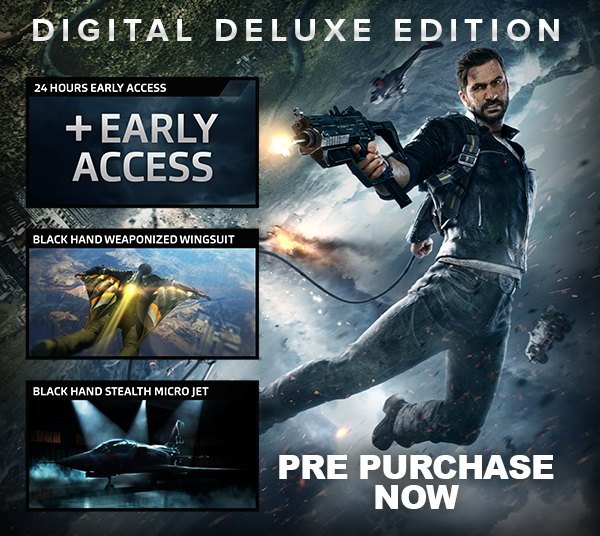 The digital Deluxe Edition adds experimental Black Hand equipment to your arsenal in-game:
Black Hand Stealth Micro Jet: this special aircraft has retractable wings and experimental stealth optic camouflage on top of an elite on-board attack arsenal. Fight back against the Black Hand with their own technology!
Black Hand Prototype Weaponized Wingsuit: the Black Hand's secret weapon, this prototype wingsuit features boost technology and the ability to be upgraded with bullet spewing barrel rolls and missile barrage attacks. When fully upgraded, it is sure to be the ultimate weapon.
As mentioned, pre-orders of this edition also get the Deathstalker Scorpion Pack and 24-hour early access.
Gold Edition ($89.99)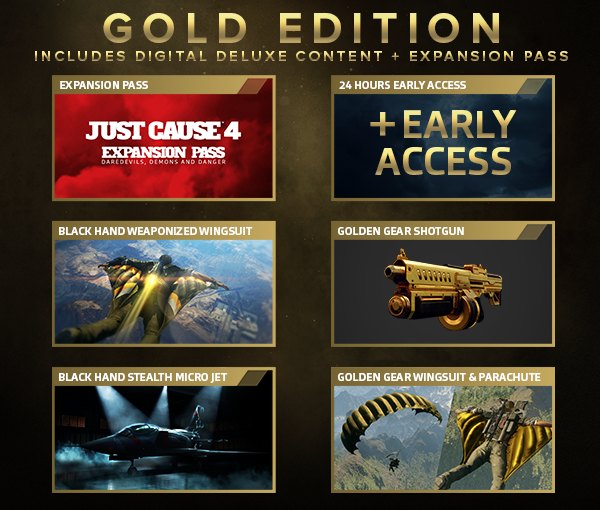 The Gold Edition includes all the Digital Deluxe content, plus the following:
Expansion Pass: 7 days early access to each of the three expansions (codenamed Daredevils, Demons, and Danger) upon their release.
Golden Gear Pack:

Golden Gear Shotgun: blast the enemy away with this specialised weapon featuring ricochet tracer secondary fire.
Golden Gear Wingsuit: soar through the skies of Solís in style with this unique golden design.
Golden Gear Parachute: glide across Solís in style with this golden canopy design.
Just Cause 4 launches December 4th, 2018, on Xbox One, PlayStation 4, and PC. The game is Xbox One X enhanced with 4K graphics.
Check out our other upcoming action games and upcoming pc games.