This game was released on August 10, 2018 and is no longer available to pre-order. Any incentives that were offered are listed below.
Madden 19 is an American football simulator based on the 2018/19 NFL season. According to EA Sports, it builds on the success of the previous installment, bringing some solid improvements to the table. One of these is a more realistic animation technology EA calls Real Player Motion, already present in FIFA 18 and UFC 3, which gives more personality to the players and improves responsiveness.
New additions also include a custom draft class creator in Franchise, all-new player positional archetypes, and upgraded zone coverage AI. There is also a new skill point system, said to provide a more seamless and balanced method for player development.
Pre-order Bonuses
The Madden series isn't known for pre-order DLC, and the latest installment is no exception. You can, however, snag some discounts by pre-ordering from the following retailers:
GameStop: save $10 with purchase of Madden NFL 19 + MUT Legends (until 8/25/18, not on digital)
Best Buy: $10 in reward certificates for My Best Buy members.
Newegg: $10 off after placing the game into cart
As usual, there is also a Theme to be had by pre-purchasing via PlayStation Store.
Standard Edition ($59.99)
The base edition of the game comes bundled with the following:
Your Choice of 1 Elite Player from your favorite NFL Team
5 Gold Team Fantasy Packs
Hall of Fame Edition ($79.99)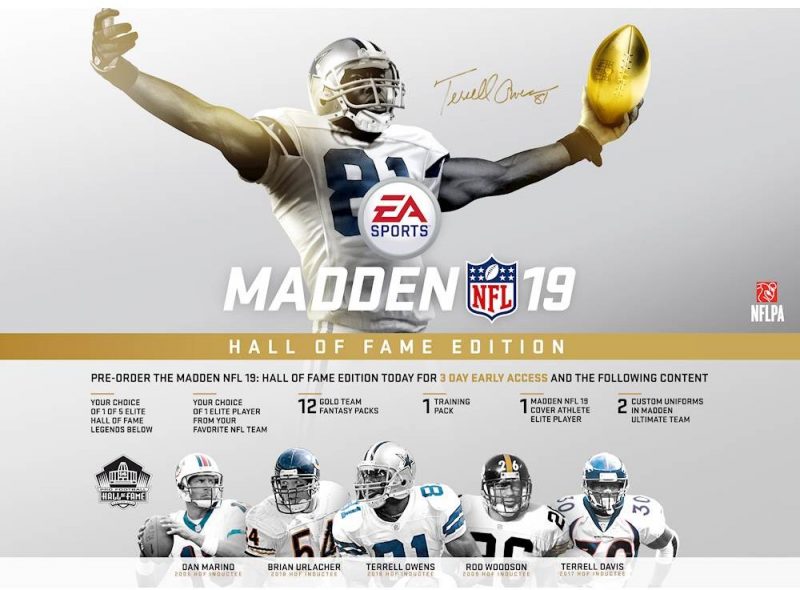 The premium Hall of Fame Edition features Terrell Owens on the cover and is packed with extra content:
3-Day Early Access
Your Choice of 1 of 5 Elite Hall of Fame Legends
Your Choice of 1 Elite Player from your favorite NFL Team
12 Gold Team Fantasy Packs
1 Training Pack
1 Madden NFL 19 Cover Athlete Elite Player
2 Custom Uniforms in Madden Ultimate Team
Madden NFL 19 is scheduled to be released August 10, 2018 for PlayStation 4 and Xbox One consoles, and, for the first time in more than a decade, on PC. As mentioned, those who pre-order the Hall of Fame Edition will get to play three days early.
Check out our other upcoming sports games and upcoming pc games.