This game was released on August 30, 2019 and is no longer available to pre-order. Any incentives that were offered are listed below.
Man of Medan is the first installment in Supermassive Games' anthology of standalone supernatural horror games The Dark Pictures. The story follows a group of young divers on vacation who are kidnapped and trapped on a ghost ship. The game has a branching storyline with multiple endings, and the choices the player makes decide which characters live and die.
The replayability of The Dark Pictures: Man of Medan is further enhanced by something called the Curator's Cut, which is unlocked after completing the main story once – more on that after the jump.
Pre-order Bonuses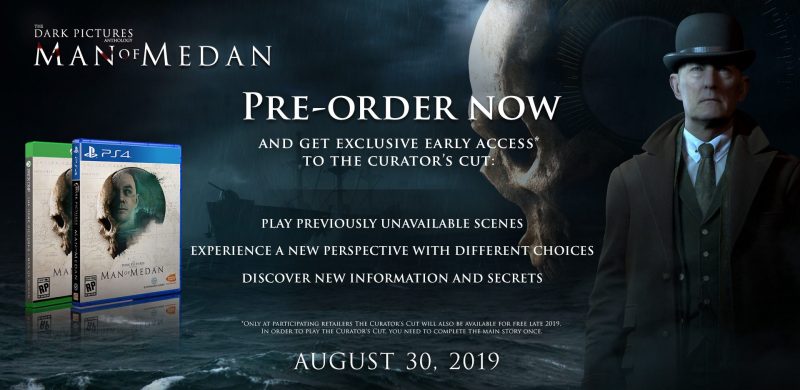 Pre-ordering Man of Medan grants day one access to the Curator's Cut, which becomes available after beating the game once. The Curator's Cut is said to "a whole new layer to how the player understands and interacts with the story", allowing the player to:
Replay previous scenes from the perspective of different characters
Experience entirely new scenes and secrets not featured in the original playthrough
Make new decisions and choices that change the story in different ways
And to those who do not pre-order, the Curator's Cut mode will become available free of charge at the end of November 2019.
The Dark Pictures: Man of Medan will be released physically and digitally for PlayStation 4 and Xbox One, and digitally-only for PC via Steam on August 30, 2019.
Check out our other upcoming adventure games and upcoming pc games.