This game was released on February 20, 2018 and is no longer available to pre-order. Any incentives that were offered are listed below.
Metal Gear Survive is an action-adventure game developed and published by Konami. In a departure from the main series, it takes place in an alternate reality, where survivors of the Mother Base's destruction in Ground Zeroes were transported through a wormhole. In a harsh desert world infested by crystal-headed zombies, they have to defend their base, farm for food, and craft the items necessary for survival.
Metal Gear Survive offers both a single-player campaign and a co-op mode for up to four players. The former focuses on stealthy exploration of the game's world, while the latter has the players working together to accomplish various missions. The character progress and rewards are shared between the two modes.
Pre-order Bonuses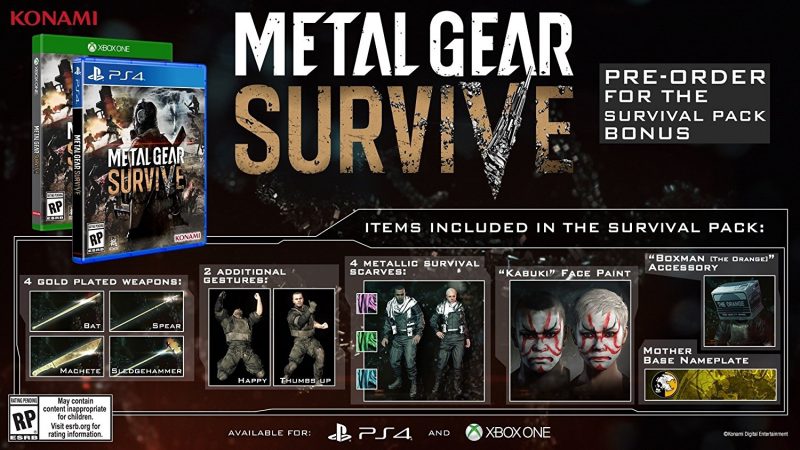 Pre-order Metal Gear Survive to receive the Survival Bonus Pack with the following in-game items to help you stay alive:
4 Gold-plated weapons: Bat, Sledgehammer, Survival Machete and Survival Spear
4 Metallic survival scarves: Green, Blue, Pink and Silver
2 Gestures: "Thumbs Up" and "Happy"
Mother Base Nameplate
"BOXMAN [THE ORANGE]" cardboard box
Kabuki face paint
Metal Gear Survive is scheduled to be released on February 20, 2018 for Xbox One and PlayStation 4 consoles, and on Steam. It will retail for $39.99.
Check out our other upcoming action games and upcoming pc games.