This game was released on April 23, 2019 and is no longer available to pre-order. Any incentives that were offered are listed below.
Mortal Kombat 11 is a fighting game developed by NetherRealm Studios and published by Warner Bros. It features a roster of new and returning fighters – 25 in total at launch – and a cinematic story mode which follows the events of the previous installment.
Numerous changes were made to the gameplay mechanics, such as separation of the meter into horizontal (offensive) and vertical (defensive), as well as addition of Fatal Blows, which become available when he player's health drops below 30%.
One of the most touted new features of Mortal Kombat 11 is the Custom Character Variation System, which allows the players to build highly customized versions of existing characters. This includes changing the fighter's costume, weapons, intro, abilities, and AI behavior.
Pre-order Bonuses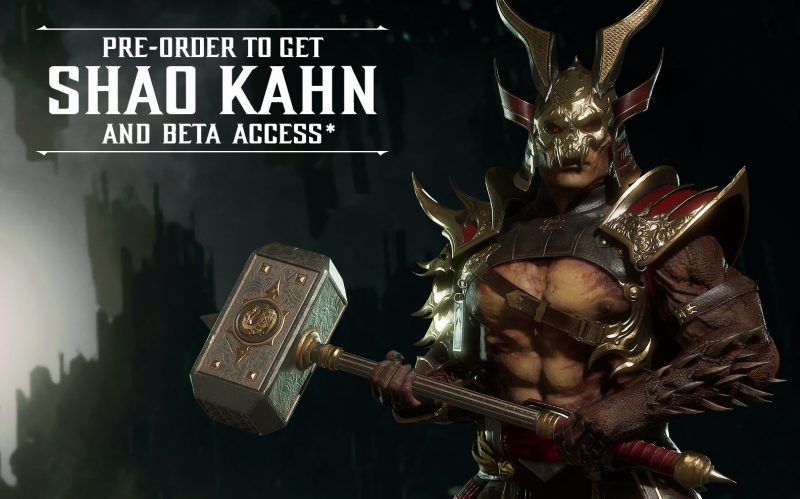 Pre-order Mortal Kombat 11 to play as Shao Kahn. PlayStation 4 and Xbox One pre-orders will additionally receive access to the closed beta that will run on March 28-31 on those platforms.
Any additional bonuses are listed below:
Premium Edition ($99.99)
The Premium Edition costs $99.99 and bundles the base game with an Exclusive Steelcase and the Kombat Pack which comprises:
6 new DLC playable characters
1 week early access to DLC characters
7 Skins
7 sets of gear
Kollector's Edition ($299.99)

Much like the previous Mortal Kombat titles, MK11 is getting a hefty Kollector's Edition as well. It is exclusive to GameStop in the US, and comes with the following extras:
Scorpion Mask (1:1 scale, measuring 13.77″ x 7.08″ x 8.26″)
Dragon Logo Magnet
Exclusive Steelcase
Kombat Pack
Mortal Kombat 11 is scheduled for a worldwide launch on April 23, 2019.
Check out our other upcoming fighting games and upcoming nintendo switch games.