This game was released on November 10, 2017 and is no longer available to pre-order. Any incentives that were offered are listed below.
Need for Speed Payback is a racing game developed by Ghost Games and published by EA. Its story centers around three distinct characters who team up to take down a criminal cartel that controls most of the fictional Fortune Valley the game is set in. As a much-requested feature from the series' fans, the single-player campaign can be played offline.
As expected of a NFS installment, it also offers an open-world environment, an extensive roster of cars (including the brand new BMW M5), cop pursuits, and, new to the franchise, high-stakes heist missions. Payback also boasts the deepest car customization in the series thus far, according to the developer. The players will find scrapped vehicles and parts as they explore the Fortune Valley, and build their perfect car from the ground up.
Pre-order Bonuses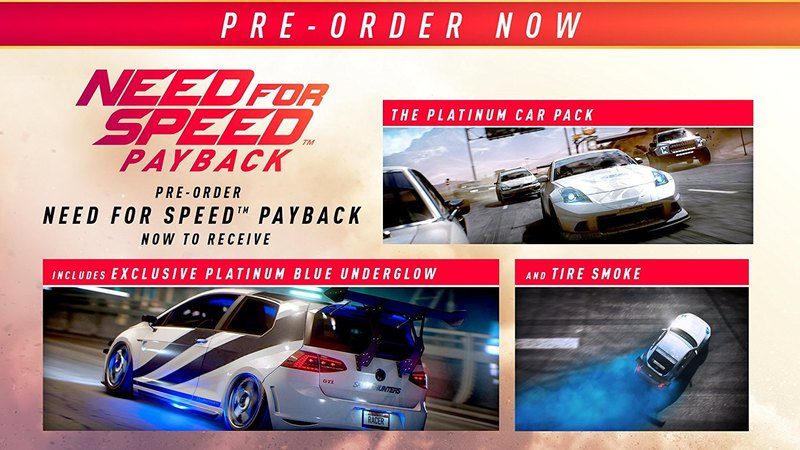 Pre-order Need for Speed Payback to receive the Platinum Car Pack with five uniquely customized and tuned iconic cars:
Chevrolet Camaro SS 1967
Dodge Charger R/T 1969
Ford F-150 Raptor 2016
Nissan 350Z 2008
Volkswagen Golf GTI Clubsport 2016
Exclusive Platinum Blue Underglow & Tire Smoke
A special Need for Speed Payback Theme can be acquired by pre-ordering the game through PlayStation Store.
Deluxe Edition
The Deluxe Edition increases the price to $79.99 and adds the following on top of the base game:
Three-day early access
Platinum Car Pack (same as the pre-order bonus)
High Roller Pack with additional story missions
Exclusive customizations (unique license plate, leaderboard icon, and NOS color for up to five cars)
Five Shipments
Permanent 5% rep bonus and 10% discount on in-game purchases
Gameplay Trailer
Need for Speed Payback is scheduled to be released on November 10, 2017. EA Access and Origin Access members will be able to play the game for up to 10 hours starting from November 2.
Check out our other upcoming racing games and upcoming pc games.