This game was released on May 25, 2021 and is no longer available to pre-order. Any incentives that were offered are listed below.
New World is Amazon Game Studios' first foray into MMOs. A PC-exclusive, it runs on the company's royalty-free Lumberyard engine and can be played without a subscription fee (albeit with an upfront payment for the game).
As one might gather from the title, New World is set in colonial America – except with a fantasy twist. Players have to content with both supernatural forces and each other in a land rife with danger and opportunity. The game's classless progression system allows any combination of attributes and weapon masteries.
Pre-order Bonuses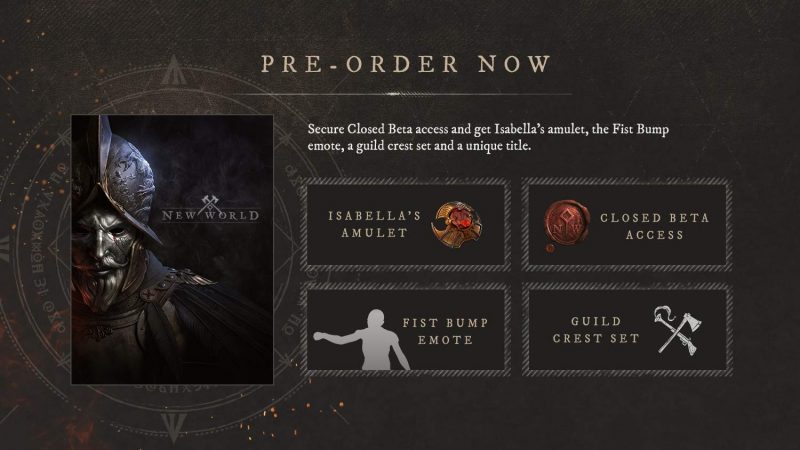 The game is available in standard ($39.99) and Deluxe ($49.99) editions via Amazon* and Steam. In both cases the pre-order bonuses are the same:
Closed Beta: access to the Closed Beta on July 23, 2020.
Isabella's Amulet: equip to gain additional constitution to weather attacks and deal additional damage against certain types of supernatural enemies.
Unique Title: display your "Expedition One" title as part of the initial wave of explorers to hit Aeternum's shores.
Emote: greet fellow adventurers with the Fist Bump emote.
Guild Crest Set: hree unique guild crests featuring axes, muskets, and armor.
*If you make a purchase through this link, we may get a share of the sale.
Deluxe Edition ($49.99)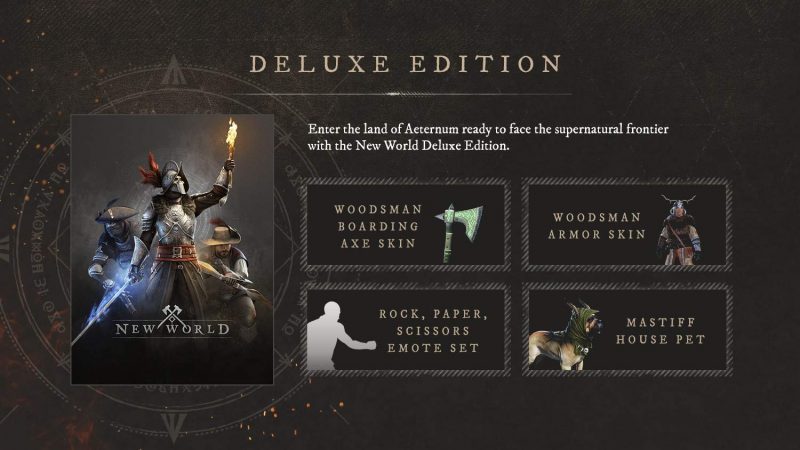 While the pre-order bonuses are the same for both editions, Deluxe naturally offers more content than Standard. Here's what you get on top of the base game:
Woodsman Armor Skin: stand out from the crowd or blend in with the forest with the Woodsman armor skin.
Woodsman Hatchet Skin: complete the Woodsman look with this skin for the versatile hatchet.
Mastiff House Pet: make your house a home with the Mastiff house pet. (Access to housing unlocks at level 20.)
Rock/Paper/Scissors Emote Set: Rock, Paper, Scissors – a lighthearted game with friends or a tool for making difficult decisions.
Digital Art Book: a collection of concept art from the making of New World.
New World launches on May 25, 2021. As mentioned, pre-order customers may sample the game in the Closed Beta prior to release.
Check out our other upcoming mmorpg games and upcoming pc games.