This game was released on March 07, 2017 and is no longer available to pre-order. Any incentives that were offered are listed below.
NieR: Automata is an action RPG developed by Japanese studio PlatinumGames and published by Square Enix. It is set in an open world and contains three playable characters, which are unlocked after clearing the previous protagonist's story route.
Plot-wise, the game takes place an unknown number of years after the events in the original Nier. In an ongoing war between the remnants of humanity and machine invaders from another world, the players control humanity's strongest weapons, combat androids called YoRHa. NieR: Automata retains the series' traditional branching storylines and dark atmosphere.
Pre-order bonuses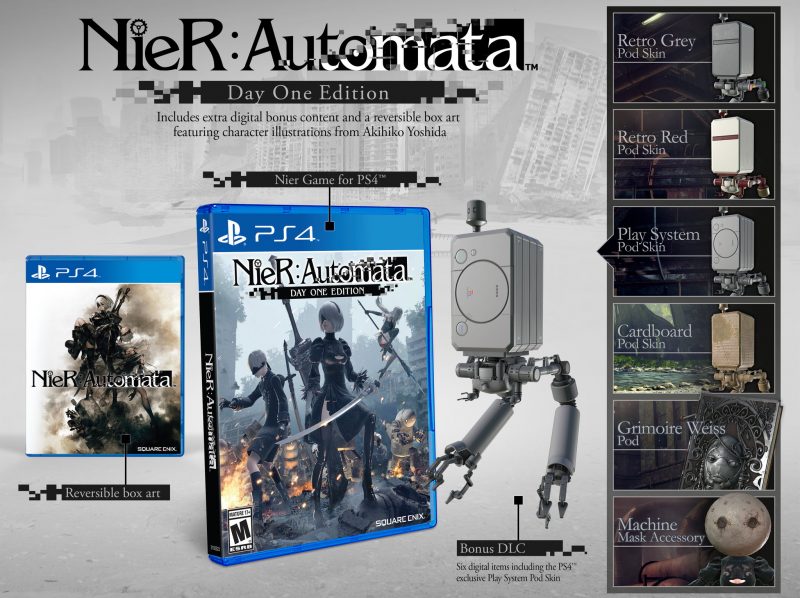 Pre-order NieR: Automata anywhere to receive the Day One Edition with the following extras:
Reversible box art from game's character designer Akihiko Yoshida
Bonus DLC:

Machine Mask Accessory
Grimoire Weiss Pod
Play System Pod Skin
Retro Grey Pod Skin
Retro Red Skin
Cardboard Pod Skin
GameStop will also add exclusive "Retro White" and "Retro Purple" Pod Skins on top of everything listed above.
Black Box Edition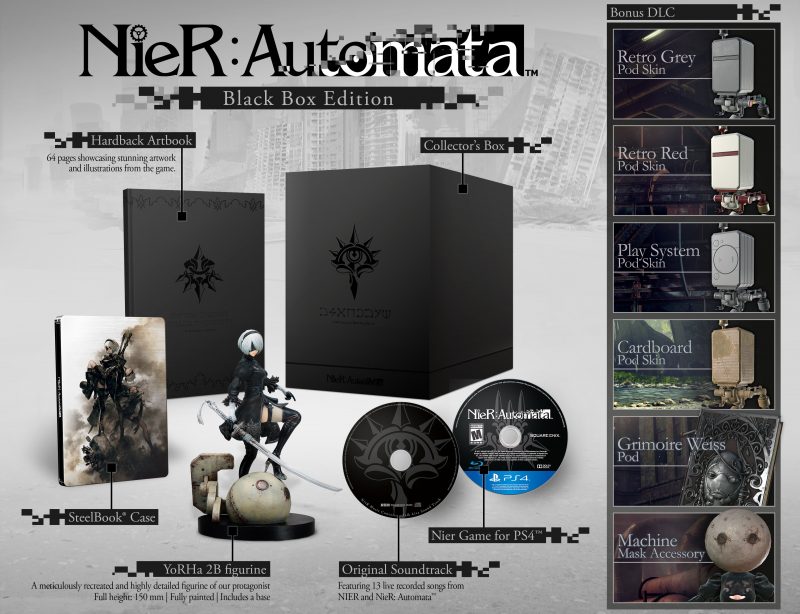 The Black Box Edition of NieR: Automata carries a rather hefty price tag of $189.99, and is available exclusively from the Square Enix Online Store. The following goodies are included in addition to the base game:
Collector's Edition box
YoRHa 2B (main protagonist) figurine
Hardback 64-page artbook
Exclusive steelbook case
Original soundtrack with 13 live-recorded songs from Nier and Nier: Automata
All Day One Edition digital content (Machine Mask Accessory, Grimoire Weiss Pod, Play System Pod Skin, Retro Grey Pod Skin, Retro Red Pod Skin, and Cardboard Pod Skin)
NieR: Automata is scheduled to be released for PlayStation 4 on March 7, 2017 in North America, and March 10 in PAL territories. The game is also coming to Steam, albeit at a later date.
Check out our other upcoming action games and upcoming playstation 4 games.