This game was released on March 13, 2020 and is no longer available to pre-order. Any incentives that were offered are listed below.
Nioh 2 is a "masocore" action RPG from Team Ninja. Timeline-wise it is a prequel to the original Nioh, and follows a different protagonist: a half-yokai, half-human mercenary who can utilize both weapons and supernatural abilities, and even enter the Dark Realm. This time around, the protagonist is fully customizable by the player including gender, appearance, and so on.
Like its predecessor, Nioh 2 can be played in Action (60 FPS), Movie (30 FPS with superior visuals), and Variable modes – and switching between them is easier than before. Regardless of the mode, PS4 Pro owners will enjoy higher resolutions.
Pre-order Bonuses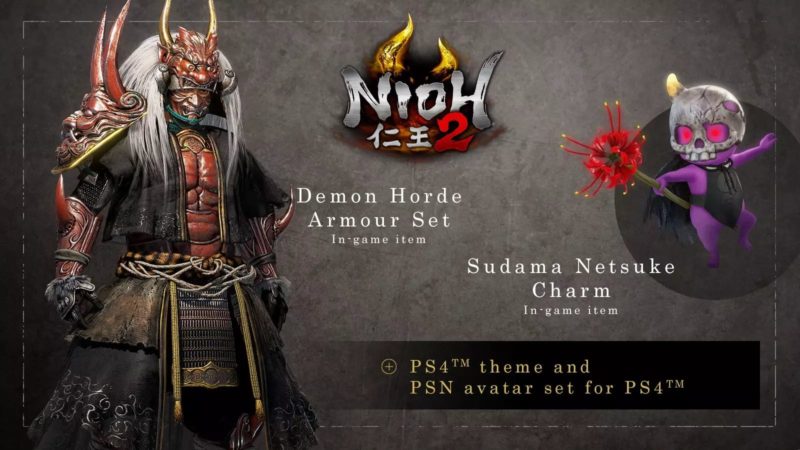 Pre-order Nioh 2 to receive the following bonuses:
Demon Horde armor set
Sudama Netsuke charm
PS4 Theme
PSN 3 Avatar Set
When pre-ordering digitally, the Avatars will be awarded after checkout, while the remaining items will become available at launch. Retail versions will include a voucher or a code on the receipt to download all the bonuses at launch. The bonuses also apply to the premium editions detailed below.
Special Edition ($79.99)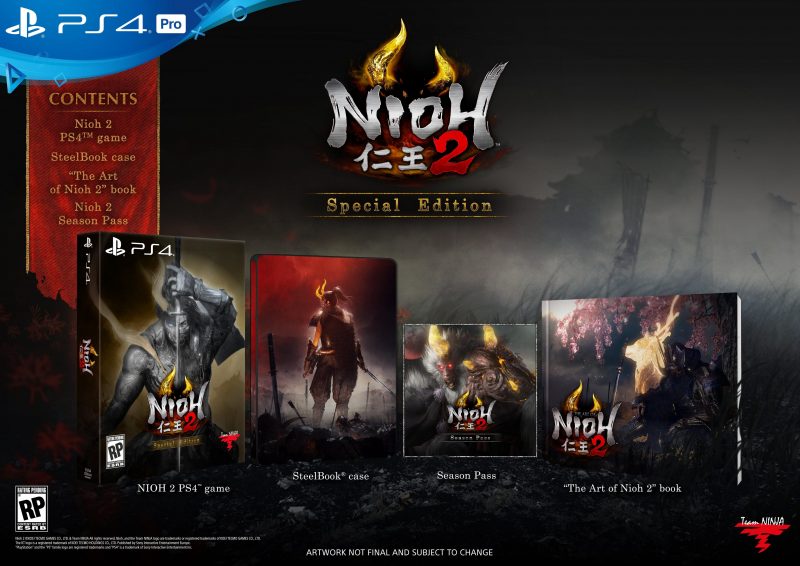 On top of the game itself, the physical Special Edition of Nioh 2 comes with the following:
Steelbook Case
"The Art of Nioh 2" Book
Season Pass voucher
Digital Deluxe Edition ($79.99)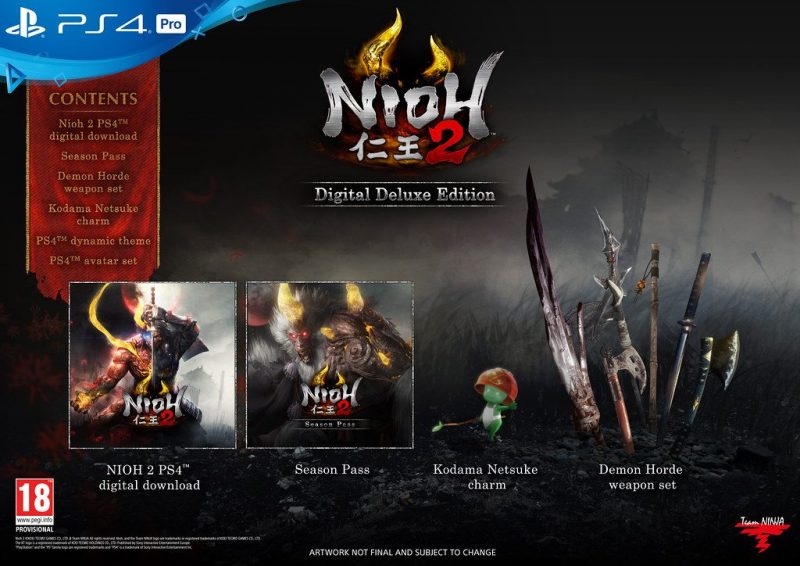 Those who prefer going the digital route can instead opt for the Deluxe Edition on PlayStation Store. Also priced at $79.99, it includes the Season Pass and additional in-game items:
Season Pass
Demon Horde weapon set
Kodama Netsuke charm
Nioh 2 is scheduled to release on March 13, 2020 as a PlayStation 4 exclusive title. An open beta will run November 1 through 10; completing it successfully will grant the Mark of the Demon Slayer and the Kamaitachi Helmet in the full game.
Check out our other upcoming action games and upcoming playstation 4 games.