This game was released on March 26, 2019 and is no longer available to pre-order. Any incentives that were offered are listed below.
Outward is an open-world action RPG developed by Nine Dots Studio and published by Maximum Games. The game aims to simulate the life of an adventurer in a grim and gritty fantasy world: the player character has to hunt, eat, sleep, and heal, their weapons and armor break, and magic spells, while powerful, require consumable components and extensive preparation. Furthermore, the game world is constantly saving, so the player has to live with bad decisions rather than reload.
Outward can be played solo or in co-op with a friend (both split-screen and online multiplayer are supported). There is no always-online requirement.
Pre-order Bonuses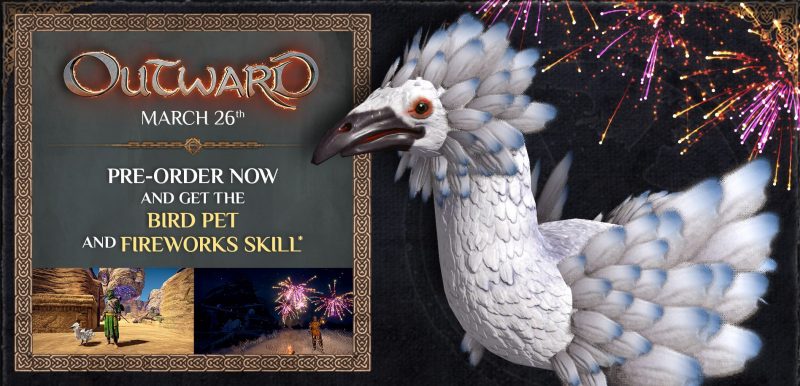 Pre-order Outward ($39.99) to receive an in-game Pearlbird Pet and Fireworks Skill as depicted above. This bonus is available both digitally and at participating retailers.
There is also a static Outward theme to be had by reserving a digital copy via PlayStation Store.
Outward launches on March 26, 2019 for Xbox One, PlayStation 4, and PC via Steam.
Check out our other upcoming action games and upcoming pc games.