This game was released on April 24, 2012 and is no longer available to pre-order. Any incentives that were offered are listed below.
Prototype 2 is an upcoming open-world action game from Canadian Radical Entertainment studio. It picks up 14 months after the events of the original game, and features a new protagonist: Sergeant James Heller, who lost his wife and daughter in a Blacklight virus outbreak.
Volunteering for a Red Zone patrol, Heller barely survives an ambush which leaves his entire squad dead. Alex Mercer saves the man by infecting him with the Blacklight virus, and Heller soon develops incredible powers not unlike those of Mercer himself. Blaming Mercer for the death of his family, an enraged Sgt. Heller sets out to destroy him, and everyone else who stands in his way.
Prototype 2 preorder bonuses
Pre-ordering Prototope 2 for Xbox 360 or PS3 at Gamestop will get you a "Bio-Bomb Butt Kicker" ability which involves Heller turning an opponent into a bomb, and kicking it into a group of enemies for collateral damage. You can see this vicious move in action below:
It's worth mentioning that this is a purely cosmetic addition, since all players will be able to make Bio-Bombs and throw them (rather than kick) across the map. The "Bio-Bomb Butt Kicker" is a preorder-exclusive DLC until June 12, 2012, when it becomes available to everyone.
BestBuy, on the other hand, is offering a "Hardened Steel Vehicle Armor" DLC. Any military vehicle that Heller enters will gain a huge defensive boost, protecting you against even the most devastating attacks by enemy soldiers, helicopters, tanks, and APCs. Watch the promo trailer for this bonus below:
In addition, you will also get a limited edition Prototype 2 poster and Steelbook case (available while supplies last; console versions only).
Amazon has an exclusive bonus too: reserving a copy there will get you a digital download of the first issue Prototype 2 comic titled "The Anchor". The comic is created by Dark Horse Comics and details the "downward spiral of Alex Mercer".
Furthermore, pre-ordering at any of the participating retailers (in addition to the two aforementioned ones, that includes Walmart and Target) will give you access to RADNET, an online content delivery system that provides you with a "mix of over 55 pieces of additional content including Events, friend vs. friend competitive score Challenges and weekly themed Rewards" for free. RADNET will be available in limited quantities after the launch as well. A FAQ explaining this service can be found on the official website.
Collector's Edition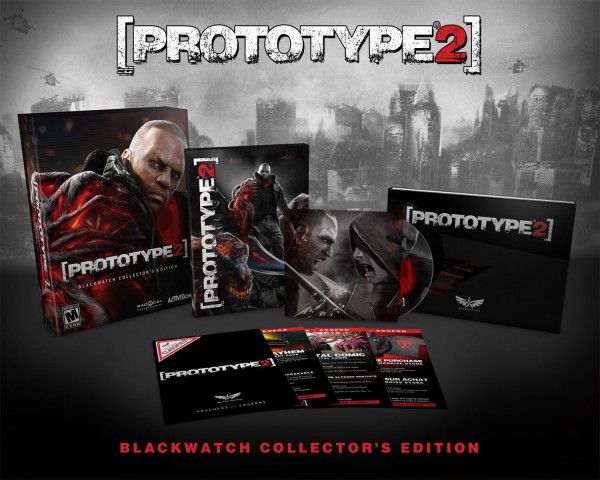 The game is also available in a Blackwatch Collector's Edition which retails for $79.99 and includes the following:
Prototype 2 RADNET content
Free DLC pack #1, "Colossal Mayhem"
Prototype 2 soundtrack CD
Exclusive hardbound art book
Dark Horse digital comic "Prototype 2: The Labyrinth"
20% discount voucher for the Prototype merchandise store
So far we've seen this premium edition of Prototype 2 listed on Amazon, Gamestop, and BestBuy websites.
Prototype 2 is set to release on April 24th, 2012 in the US, and three days later in Europe.
Check out our other upcoming action games and upcoming playstation 3 games.