This game was released on January 01, 2022 and is no longer available to pre-order. Any incentives that were offered are listed below.
A new threat has emerged and it's up to the operators to take on an unknown enemy in Rainbow Six Extraction. An elite team of past operators from Rainbow Six Siege have come together to form the Rainbow Exogenous Analysis and Containment Team (REACT). Assemble your elite squad of operators to fight and contain the alien threat that is the Archæans.
Rainbow Six Extraction is a cooperative multiplayer tactical shooter developed by Ubisoft Montreal and published by Ubisoft. Rainbow Six Extraction will be released on PlayStation 4, PlayStation 5, Xbox One, Xbox series X|S, and Windows PC.
Pick your team taking into account each operator's unique weapons and abilities to give yourself an advantage over the evolving alien threat.
The game has a strong emphasis on tactical gameplay and teamwork. Each squad must coordinate and work together to eliminate any hostile threats.
Archæans are the alien species you will encounter. They come in up to 10 different variants with each variation posing a unique threat to the operators.
Pre-order Bonuses
If you make a purchase through these links, we may get a share of the sale.
Standard Edition($59.99)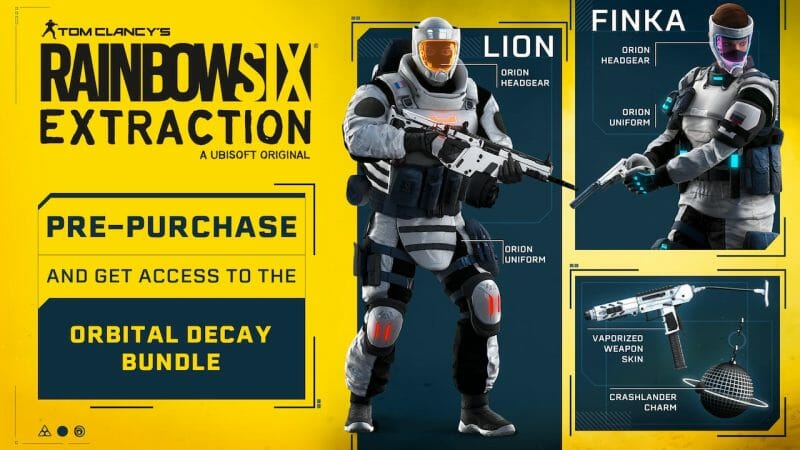 Get the Orbital Decay bundle plus the base game when you pre-order the Standard Edition of Rainbow Six Extraction. The Orbital Decay bundle includes:
Orion uniform and headgear for Finka and Lion
Universal Vaporized weapon skin
Crashlander charm
Deluxe Edition($79.99)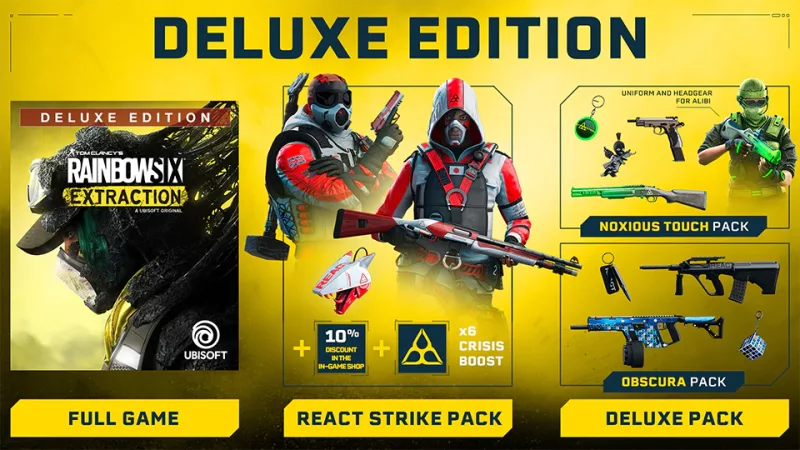 The Deluxe Edition of Rainbow Six Extraction comes packed with the base game plus some exclusive packs listed below:
The Noxious Touch Pack
The Obscura Pack
The React Strike Pack
PlayStation
Xbox
PC
Rainbow Six Extraction will be released on January 2022 and will be playable on PlayStation 4, PlayStation 5, Xbox One, Xbox Series X|S, and Windows PC.
Check out our other upcoming action games and upcoming pc games.