This game was released on June 11, 2021 and is no longer available to pre-order. Any incentives that were offered are listed below.
Ratchet & Clank: Rift Apart is the next chapter in the titular duo's intergalactic adventures. Developed by Insomniac Games, it serves as a sequel not to the 2016 reboot of the series, but to the older PS3 title Ratchet & Clank: Into the Nexus. That being said, the developers have stressed that Rift Apart has a stand-alone storyline and is a great starting point even if you aren't familiar with the series.
In Ratchet & Clank: Rift Apart, Ratchet and Clank are separated by a dimensional rift and traverse multiple realities to stop Dr. Nefarious from wiping out all organic life. They join forces with a female Lombax resistance fighter, a new playable character.
Pre-order Bonuses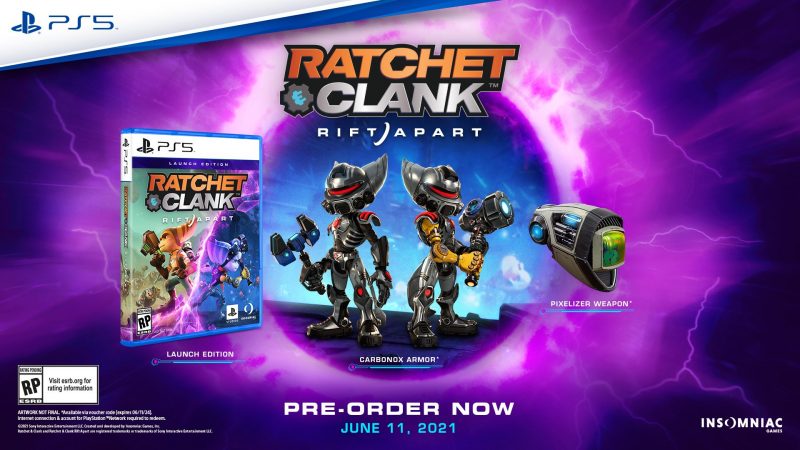 Pre-order Ratchet & Clank: Rift Apart to receive the following in-game bonuses:
Carbonox armor from Ratchet & Clank: Going Commando (2003)
Early unlock the Pixelizer weapon, the retro-blaster from Ratchet & Clank (2016)
Both items are upgraded with high-definition materials and ray-traced reflections for the PS5.
These bonuses are applicable to all editions of Ratchet & Clank: Rift Apart, digital and physical. When pre-ordering a physical copy, make sure you're getting the Launch Edition, which includes voucher codes inside the game case. Participating retailers that sell the Launch Edition in the US include:
(If you make a purchase through these links, we may get a share of the sale.)
Digital Deluxe Edition ($79.99)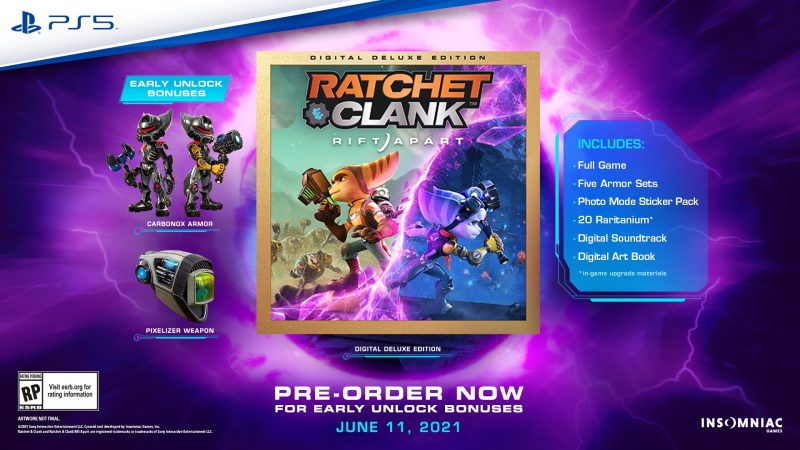 The Digital Deluxe Edition costs $80 and comes with the following:
Ratchet & Clank: Rift Apart Full Game
Five Armor Sets
Photo Mode Sticker Pack
20 Raritanium (in-game upgrade materials)
Digital Soundtrack
Digital Art Book
Ratchet & Clank: Rift Apart launches June 11, 2021 on PlayStation 5.
Check out our other upcoming platformer games and upcoming playstation 5 games.