This game was released on October 26, 2018 and is no longer available to pre-order. Any incentives that were offered are listed below.
Red Dead Redemption 2 is an action-adventure game developed by Rockstar Games. Like its award-winning predecessor, it is set in the Old West, and features an open world the player can roam freely on horseback or on foot. According to Rockstar, RDR 2 is biggest game it has ever created in terms of sheer size.
Time-wise, Red Dead Redemption 2 starts in year 1899 – or about a decade before the events in the previous title – and follows a new protagonist: Arthur Morgan, a member of the notorious Van der Linde gang. After a robbery gone wrong, the gang is forced to free across the rugged heartland of America, with nation's best bounty hunters and federal agents on their heels.
Pre-order Bonuses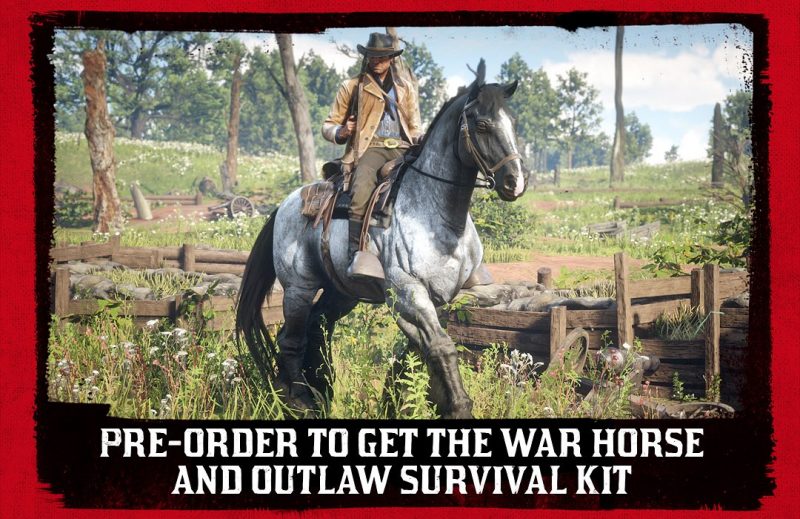 All Red Dead Redemption 2 pre-orders, regardless of the platform or version, will receive the following two bonuses for the game's Story Mode:
War Horse: this handsome iron-grey-colored Ardennes War Horse can always be relied on in the heat of the battle. With greater courage and stamina than the average steed, this is a horse that knows how to keep its head under fire.
Outlaw Survival Kit: contains a collection of key supplies for enduring the rigors of life on the frontier, including items to replenish Health, Dead Eye and more.
Digital pre-orders through Microsoft Store and PlayStation Store will receive additional incentives on top of those:
Cash Bonus for Story Mode: the Van der Linde gang is always looking for ways to make more money and bring in new supplies. This in-game cash bonus will give Arthur Morgan enough to buy a weapon, some food, a handful of useful items and ammunition.
Treasure Map (if you pre-purchase by August 15): secret buried treasure can be found throughout the world of Red Dead Redemption 2, and this exclusive map for Story Mode will give Arthur a head start on the hunt for hidden riches.
Bonus GTA$500,000 to spend immediately in Grand Theft Auto Online (the bonus can be downloaded by searching for "$500,000 for Grand Theft Auto Online" on Microsoft Store, and will be delivered automatically via PlayStation Store).
Special Edition ($79.99)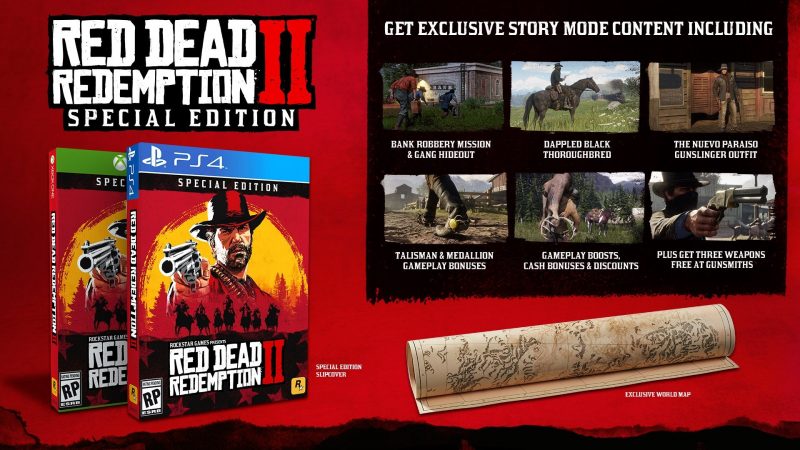 The Special Edition of RDR 2 comes with a special slip cover, a physical world map, and the following content for Story Mode:
Bank Robbery Mission and Gang Hideout
Dappled Black Thoroughbred
Talisman and Medallion Gameplay Bonuses
Gameplay Boosts, Cash Bonuses & Discounts
The Nuevo Paraiso Gunslinger Outfit
Free Access to Volcanic Pistol, Pump Action Shotgun, and Lancaster Varmint Rifle
Ultimate Edition ($99.99)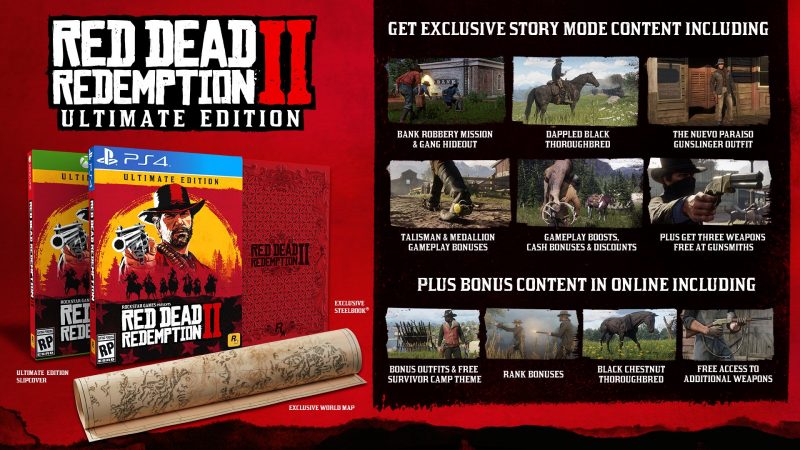 Like the previous edition, the Ultimate Edition is also available both digitally and at retail, albeit with the physical version being GameStop-exclusive. It contains the same slip cover, physical world map, and extra Story Mode content like the Special Edition. Its boxed version additionally comes with a Steelbook, and both boxed and digital versions include these bonuses for online play:
Blackrose Bounty Hunter and Copperhead Enforcer Outfits
Black Chestnut Thoroughbred with High Plains Cutting Saddle
Free Access to the Survivor Camp Theme
Free Access to Volcanic Pistol, Pump Action Shotgun, and Lancaster Varmint Rifle
Rank Bonuses up to Rank 25
Collector's Box ($99.99)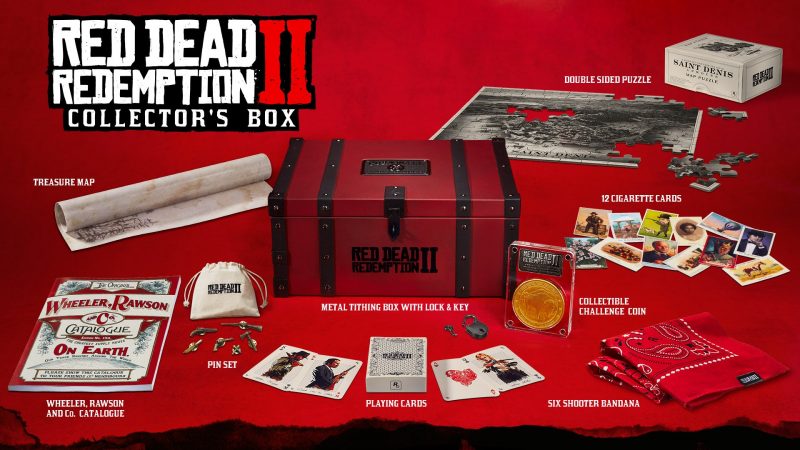 Lastly, the Collector's Box is also priced at $99.99 and contains a wealth of physical collectibles packed into a stylish red box – but does not include a copy of Red Dead Redemption 2 itself. You can get it directly from Rockstar's own store, and if you'd rather go to a retailer, it happens to be exclusive to GameStop in the US. The following outlaw paraphernalia is included:
Metal Tithing Box with Lock & Key
Collectable Challenge Coin
Double-Sided Puzzle
Six Shooter Bandana
Treasure Map
Pin Set in a Canvs Bag
Playing Cards
Wheeler, Rawson and Co. Catalogue
12 Cigarette Cards
Red Dead Redemption 2 is scheduled to launch on October 26, 2018 for PlayStation 4 and Xbox One.
Check out our other upcoming action games and upcoming playstation 4 games.