This game was released on May 07, 2021 and is no longer available to pre-order. Any incentives that were offered are listed below.
Resident Evil Village is a first-person survival horror game and a direct sequel to Resident Evil 7: Biohazard. The story begins with the returning protagonist, Ethan Winters, living peacefully with his wife Mia a few years after escaping the Baker plantation. Then BSAA captain Chris Redfield attacks their home, and Ethan's daughter is kidnapped. Seeking answers, he chases Chris to a remote snowy village in Romania.
RE: Village introduces a crafting system, through which Ethan can craft first-aid kits and ammunition. The game also features a merchant that will sell and upgrade weapons – for a price. Resource management remains an important aspect of gameplay, since Ethan's inventory capacity is limited to the size of a briefcase.
Pre-order Bonuses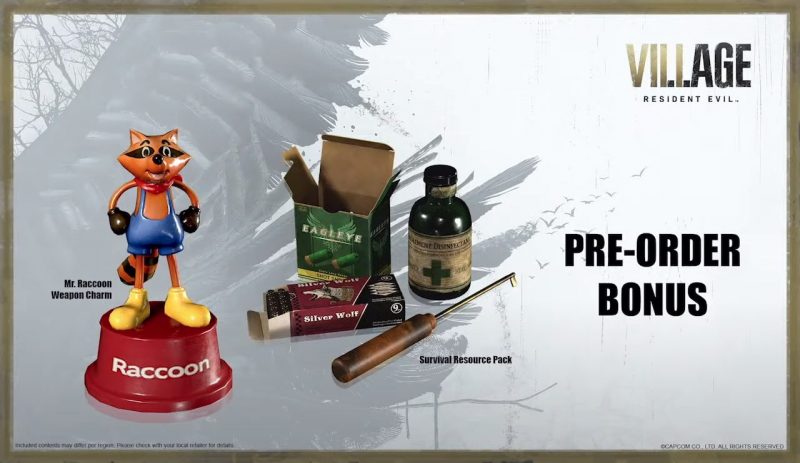 Pre-order Resident Evil Village to receive the following in-game bonuses. Physical versions include product codes. If you purchase digitally, the bonus content can be downloaded from the same online store.
Mr. Raccoon Weapon Charm: obtained via the in-game merchant. Apply this custom part to a certain shotgun to have the charm appear in-game on your weapon.
Survival Resources Pack: obtained via the in-game merchant and includes handgun ammo, shotgun ammo, a first aid med pack, and a lockpick. Only available once during each playthrough from New Game.
Any exclusive bonuses on top of those are listed below. If you make a purchase through these links, we may get a share of the sale.
Best Buy: a free SteelBook case with game-inspired graphics: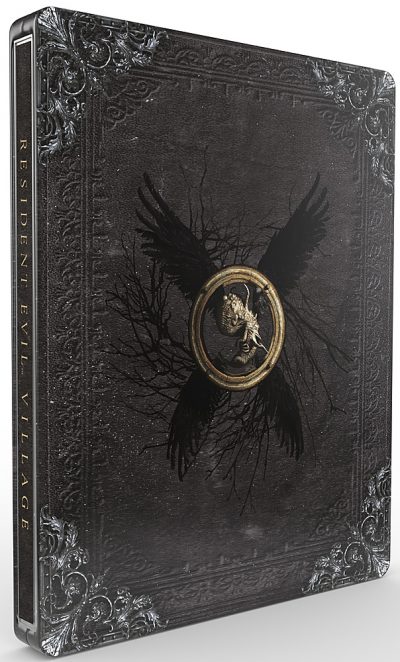 PlayStation Store: Resident Evil Village Mini Soundtrack, only with digital PS4 and PS5 pre-orders
Resident Evil Re:Verse

By purchasing Resident Evil Village, you also receive a free copy of Resident Evil Re:Verse, an online multiplayer title in which 4 to 6 players compete in short 5-minute deathmatches. Here are the nitty gritty details from the game's official website:
• If you purchase Resident Evil Village on the PlayStation®5, then the version of Resident Evil Re:Verse will be for the PlayStation®4, and if you purchase Village on the Xbox Series X, you will receive the Xbox One version of Re:Verse.

• Resident Evil Re:Verse is an online-only multiplayer title. The PlayStation®4 and PlayStation®5 version require a PlayStation®Plus membership, and the Xbox One and Xbox Series X versions require an Xbox Live Gold membership in order to play.

• Details of the operational period for Resident Evil Re:Verse, including commencement of availability and any potential announcements relating to the end of service, can be found on the official website.

• Please note that, depending on the timing of your purchase of Resident Evil Village, Resident Evil Re:Verse may already no longer be available, and/or the title may become available through other means in the future.

• Product codes are included with the physical version of Resident Evil Village. If you purchase the digital version, content can be downloaded from the online store the game was purchased from.

• Product codes will become invalid if the content is no longer available.
Deluxe Edition ($69.99)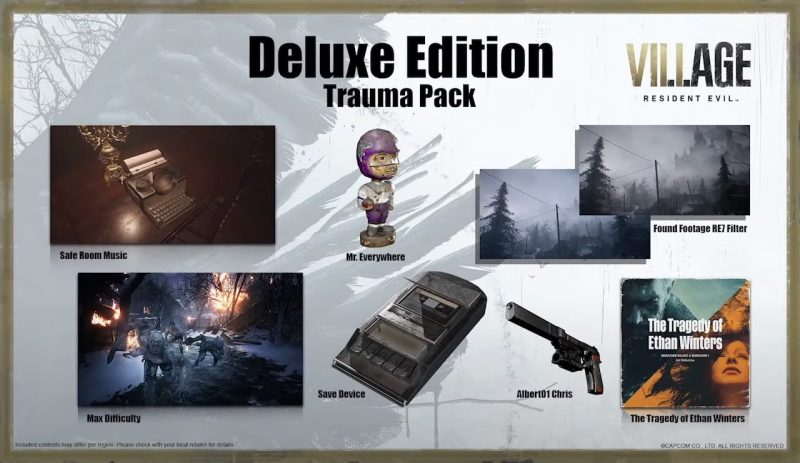 Available for all platforms, the Deluxe Edition adds an in-game Trauma Pack in addition to the pre-order bonuses and the free copy of Re:Verse.
Resident Evil Re:Verse
Deluxe Edition Trauma Pack:

Samurai Edge – AW Model-01
Resident Evil 7 Found Footage Filter
Resident Evil 7 Tape Recorder Save Point
Saferoom Music "Go Tell Aunt Rhody"
Mr. Everywhere Weapon Charm
Unlock "Village of Shadows" Difficulty
The Tragedy of Ethan Winters Artwork
Collector's Edition ($219.99)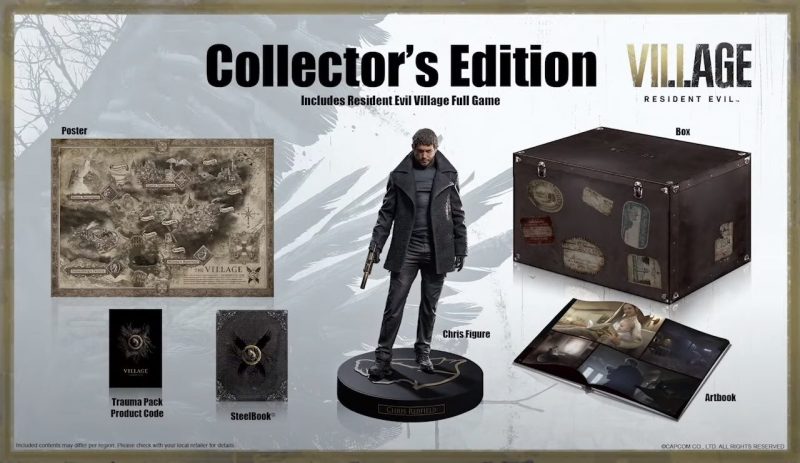 The $220 Collector's Edition comes with a plethora of collectible goodies listed below. In the US, it is exclusive to GameStop (if you make a purchase through this link, we may get a share of the sale).
Resident Evil Village Game
Resident Evil Re:Verse
Trauma Pack DLC
Chris Redfield Figure
64-Page Hardcover Art Book
Reversible Microfiber Cloth Map
SteelBook
Village & RE7 Complete Bundle ($79.99)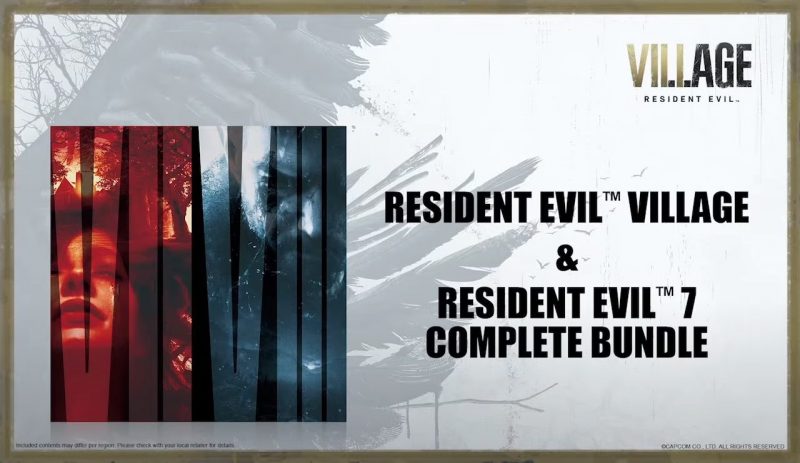 Those who haven't played the previous installment yet might be interested in this digital bundle that combines the Deluxe Edition of Village with a Gold Edition of Resident Evil 7. The full contents are as follows:
Resident Evil Village Game
Trauma Pack
Resident Evil 7 biohazard Gold Edition
Resident Evil Re:Verse
Resident Evil Village will launch on May 7, 2021.
Check out our other upcoming shooter games and upcoming pc games.