This game was released on October 27, 2022 and is no longer available to pre-order. Any incentives that were offered are listed below.
Sackboy A Big Adventure is an adorable platformer developed by Sumo Sheffield and published by Sony Interactive Entertainment. Nefarious plans have been hatched by the dastardly Vex that threaten to transform Craftworld into a barren wasteland. There lies a prophecy yet to be realized of a knitted knight of legend who would save Craftworld and the sack-folk from a perilous future. It is up to Sackboy to answer the call, rise as a hero and fulfill his destiny, but he's going to need all the help he can get.
Sackboy A Big Adventure was released in 2020 for the PlayStation 5 but is set for a release this Autumn on Microsoft Windows.
Play the game with all new settings that crank the experience up to 11 with 21:9 ultra-widescreen support, faster load times, and enhanced frame rate support of up to 120fps.
Hop into the action solo or with your consort of cronies exploring the lush jungles, frozen tundras, and deepest depths of the sea all in this chaotically wonderful experience.
Pre-order Bonuses
If you make a purchase through these links, we may get a share of the sale.
Sackboy A Big Adventure Pre-order Bonus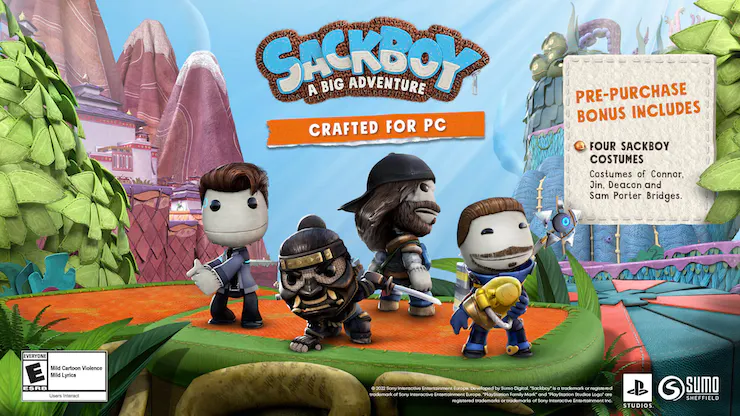 The pre-order bonus for Sackboy A Big Adventure includes a set of 4 costumes for Sackboy based on characters from some iconic PlayStation® hits:
Connor – prototype Cyberlife android.
Jin Sakai – fearless samurai warrior.
Deacon St. John – outlaw biker hero.
Sam Porter Bridges – intrepid courier.
Microsoft Windows
Sackboy A Big Adventure will be released on October 27th, 2022, and will be playable on Windows PC
Check out our other upcoming platformer games and upcoming pc games.