This game was released on September 07, 2021 and is no longer available to pre-order. Any incentives that were offered are listed below.
Get to experience a modern re-skin of an already amazing sonic adventure in Sonic Colors Ultimate. Sonic Colors was released in 2010 to much appreciation by sonic fans due to its faithful level design and vibrant art style. Sonic Colors Ultimate aims to make a good game even better with visual improvements such as support for 4k resolution and 60 frames per second gameplay among others.
Developed by Blind Squirrel Games and published by Sega, Sonic Colors Ultimate will be coming to PlayStation 4, Xbox One, Xbox Series X|S, Nintendo Switch, and PC this Autumn.
The evil Dr. Robotnik has created an amusement park by enslaving a race of wisps to power it, it's up to sonic to put an end to this. With the help of the wisps along with Sonic's lightning-fast speed, unlock unique abilities to thwart the plans of evil Dr. Robotnik and free the wisps.
Spend time exploring, fighting, and most definitely running through six unique levels each with special obstacles to keep you engaged for hours in what is Sonic's greatest outing yet.
Pre-order Bonuses
If you make a purchase through these links, we may get a share of the sale.
Standard Edition ($39.99)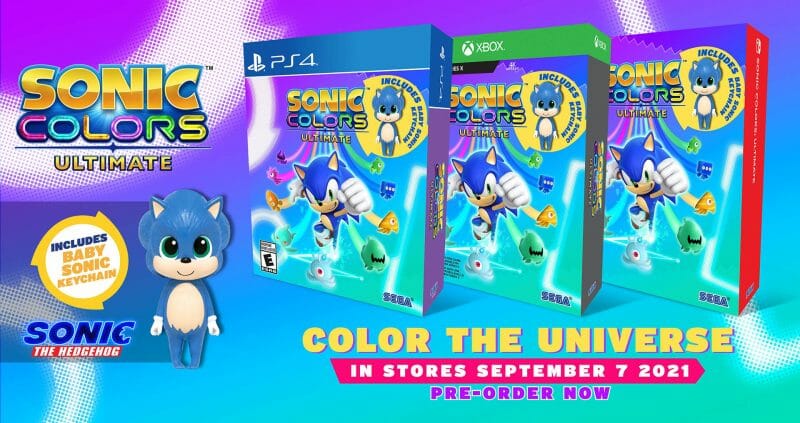 When you pre-order the physical copy of Sonic Colors Ultimate you get a baby Sonic keychain included. The digital version gets you early access to the game, Sonic Movie Boost plus exclusive player icons.
Deluxe Edition($49.99)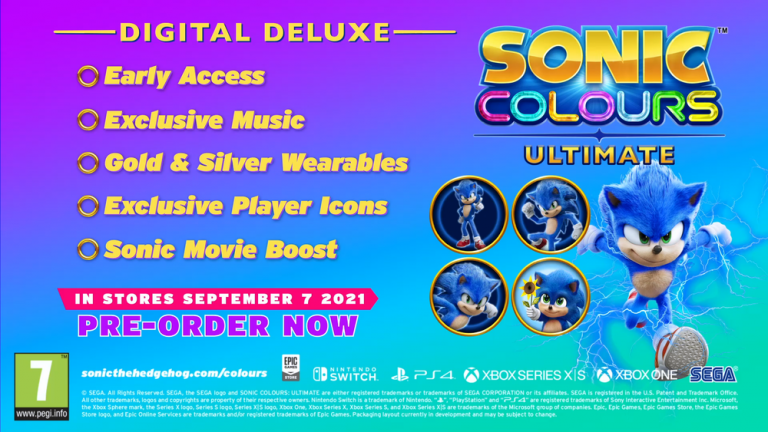 The Deluxe Edition of Sonic Colors Ultimate comes with a ton of exclusive content. Included in this edition is:
Ultimate Cosmetic Pack – Customize Sonic and stand out with exclusive gold and silver gloves and shoes, an electric boost and aura from the hit Sonic movie and exclusive Sonic movie themed player icons
Ultimate Music Pack – 3 exclusive original game remixes to set the pace for you while you put an end to Dr. Eggman
PlayStation
Xbox
Nintendo Switch
Sonic Colors Ultimate will be released on September 7th, 2021, and will be playable on PlayStation 4, Xbox One, Xbox Series X|S, Nintendo Switch, and PC.
Check out our other upcoming action games and upcoming nintendo switch games.